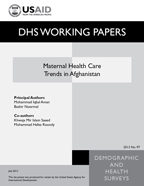 Document Type

Publication Topic(s)

Country(s)

Language

English

Recommended Citation

Aman, Mohammad Iqbal, Bashir Noormal, Khwaja Mir Islam Saeed, and Mohammad Hafez Rasooly. 2013. Maternal Health Care Trends in Afghanistan. DHS Working Papers No. 97. Calverton, Maryland, USA: ICF International.

Download Citation

Publication ID

WP97
Abstract:
Introduction: Afghanistan has long been recognized as having one of the highest levels of maternal mortality in the world. In Afghanistan an estimated 40% to 50% of women's deaths during the childbearing years are related to complications during pregnancy and childbirth. The present study uses nationally representative data to describe and interpret trends in coverage of three key maternal health care services across provinces in Afghanistan, in order to contribute to evidence-based maternal health care planning and effective strategies to improve maternal health care in the provinces of the country. Method: This paper presents secondary analysis of data from the 2010 Afghanistan Mortality Survey (AMS). In order to assess maternal health care service utilization, this study examined women's use of three essential maternal services: antenatal care (ANC), delivery care by a skilled birth attendant (SBA), and postnatal care (PNC). Two methods were used to compare coverage across provinces: first, provinces were compared in their overall coverage of maternal health services during the five years preceding the survey; and second, maternal health care utilization was disaggregated into one-year periods in order to examine trends in health care utilization by province during this five-year period. Results: Nationally, 60% of women reported that they received antenatal care from a skilled provider for their last live birth, 34% reported that their last live birth was delivered by a skilled provider, and 23% reported that they received postnatal care within two days following delivery of their last live birth. Eighteen percent of women received all three maternal services for their last live birth. Nationally, use of all three services increased by roughly 10% over the five years preceding the survey, but the extent of progress varied considerably across province. Conclusion: The study shows overall progress toward improving coverage of all three maternal health indicators (ANC, deliveries attended by SBAs, and PNC). This progress could be explained by substantial investments put in place during this period in reproductive health care and in rebuilding the health system. However, there is extensive variation in the extent of progress across provinces. Provinces with better maternal health care coverage and a higher rate of progress in coverage can be encouraged to share lessons learned from their experience with provinces with lower coverage and slower progress.