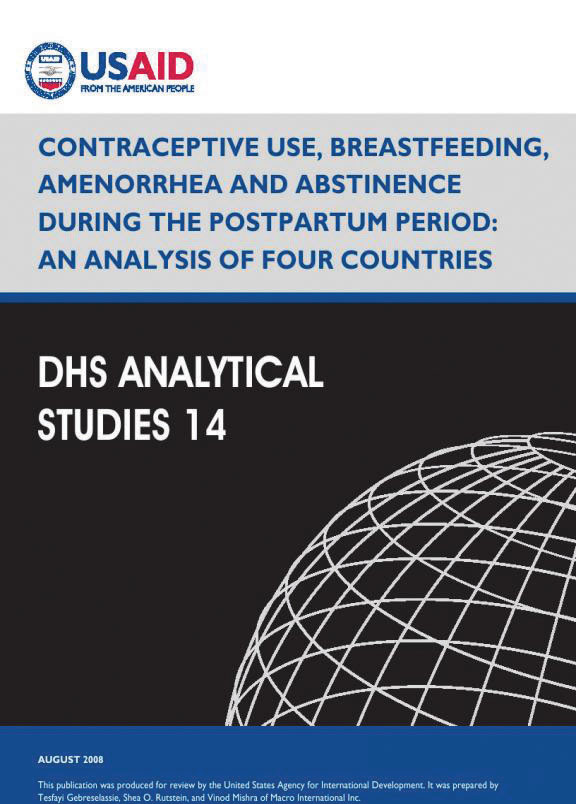 Document Type

Publication Topic(s)

Country(s)

Language

English

Recommended Citation

Gebreselassie, Tesfayi, Shea O. Rutstein, and Vinod Mishra. 2008. Contraceptive Use, Breastfeeding, Amenorrhea and Abstinence During the Postpartum Period: An Analysis of Four Countries. DHS Analytical Studies No. 14. Calverton, Maryland, USA: Macro International

Download Citation

Publication Date

August 2008

Publication ID

AS14
Abstract:
This study examines the adoption of contraceptive use after a birth, using reproductive calendar data from Demographic and Health Surveys (DHS) in Kenya, Indonesia, the Dominican Republic, and Peru for women age 15-49. Socioeconomic and demographic differentials of the probability of using contraception at 2, 6, 9, and 12 months after a birth are investigated using multiple decrement life table. The Cox multivariate proportional hazards model is used to examine predictors of the duration between childbirth and first use of contraception in the first 12 months after a birth. Results from bivariate analyses show that in all four countries the likelihood of adopting contraception in the first 12 months after a birth increases with the level of education of the mother, her exposure to the media, the wealth status of the household, and whether delivery was at a public or private health facility. The findings also indicate that between 20 percent and 40 percent of women in the countries studied did not initiate contraceptive use postpartum before they became at risk for another pregnancy. Multivariate analyses suggest that in all four countries education and wealth status have a significant positive association with the adoption of any contraceptive method during the first 12 months postpartum. Also, in three of the countries mother's exposure to mass media has a significant positive association with adoption of a contraceptive method. In addition, mothers from wealthier households, with formal education, and age 25 and older are more likely to initiate use of non-hormonal and hormonal contraceptive methods in the first 12 months after a birth.