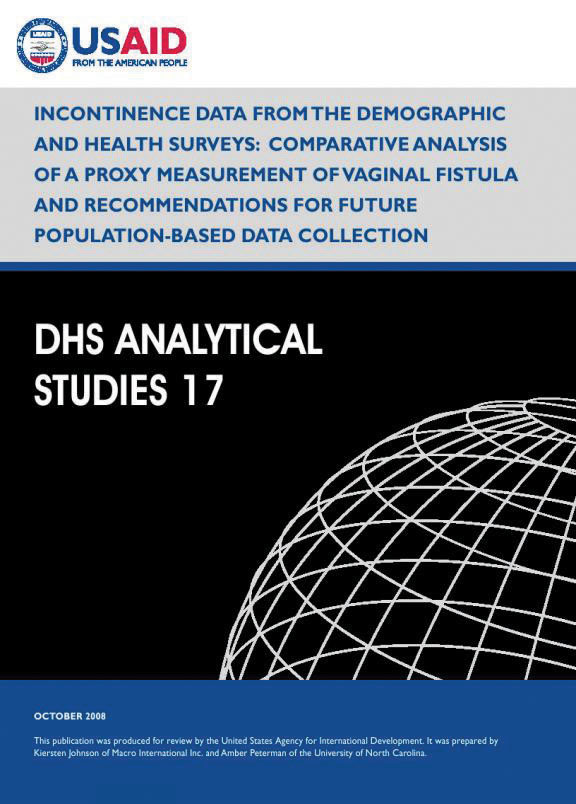 Document Type

Language

English

Recommended Citation

Johnson, Kiersten, and Amber Peterman. 2008. Incontinence Data from the Demographic and Health Surveys: Comparative Analysis of a Proxy Measurement of Vaginal Fistula and Recommendations for Future Population-Based Data Collection. DHS Analytical Studies No. 17. Calverton, Maryland, USA: Macro International

Download Citation

Publication Date

November 2008

Publication ID

AS17
Abstract:
This report represents an effort to begin to fill the gaps in knowledge about the prevalence and covariates of fistula. The Demographic and Health Surveys (DHS) program has initiated the collection of data on the problem of fistula. This document reports on that effort, including a critique of data collection methods and an analysis of the collected data on fistula symptoms and their covariates. This report demonstrates the effects that methodological approaches to survey implementation have on self-reported prevalence of severe incontinence and its covariates, and it underscores the need for careful consideration in sample selection and questionnaire construction. As a remedy for the suboptimal approaches to data collection that have been used in the past in the DHS program, this report presents a newly developed fistula survey module. Above all, all women are at risk for developing fistula, and, therefore, in the collection of prevalence data on symptoms of fistula, all women must have the opportunity to respond to a carefully considered set of questions, such as the module presented in this report. This report also serves to establish baseline levels of symptoms of fistula in several countries. The findings of this report indicate that, to the degree that fistulae develop through obstetric causes, there is a critical need to re-emphasize the role of family planning in ensuring maternal health and survival. Finally, our results suggest that women who struggle with their labors do indeed seek medical care but too late to preclude severe morbidity.