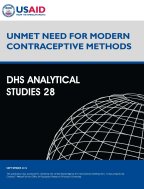 Document Type

Publication Topic(s)

Language

English

Recommended Citation

Westoff, Charles F. 2012. Unmet Need for Modern Contraceptive Methods. DHS Analytical Studies No. 28. Calverton, Maryland, USA: ICF International.

Download Citation

Publication Date

September 2012

Publication ID

AS28
Abstract:
The main objective of this report is to document current levels and trends since 1990 in the unmet need for modern family planning methods with an emphasis on analysis of the covariates of unmet need. A total of 52 developing countries with surveys since 2001 in the DHS project are included. On average, 32 percent of married women are currently using a modern contraceptive method, ranging from 9 percent in West and Middle Africa to 51 percent in Latin America and the Caribbean. The total demand for family planning ranges from 41 percent in West and Middle Africa to 80 percent in Latin America and the Caribbean. The use of modern contraception has generally been rising, but the changes are slight in West and Middle Africa, where contraceptive use for spacing rather than for limiting births continues to dominate. A series of multivariate analyses of factors affecting the use of modern contraception versus having an unmet need shows, with some exceptions, a positive association with education and with wealth. Unmet need was also assessed for unmarried women in countries where they were included in DHS surveys. In Latin America and the Caribbean and in East and Southern Africa, about one-third of unmarried sexually active women are classified as having an unmet need, while in West and Middle Africa about half are in this category. Trends in the percentage of sexually active unmarried women who are not using modern contraception show a continuing and near universal decline from earlier years.