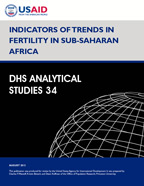 Document Type

Publication Topic(s)

Language

English

Recommended Citation

Westoff, Charles F., Kristin Bietsch, and Dawn Koffman. 2013. Indicators of Trends in Fertility in Sub-Saharan Africa. DHS Analytical Studies No. 34. Calverton, Maryland, USA: ICF International.

Download Citation

Publication Date

August 2013

Publication ID

AS34
Abstract:
The main objective of this study is to evaluate the relative importance of the factors associated with the decline of fertility in sub-Saharan Africa. The analysis is based primarily on data from the Demographic and Health Surveys in 24 sub-Saharan countries that have conducted at least two surveys. Most of the findings are based on the characteristics of women, but in 22 of the countries trends for men are also included. An analysis also summarizes findings for 20-year intervals for 12 countries with more than two surveys Declines in the total fertility rate are strongly correlated with declines in the number of children desired and with increases in the use of modern contraception, but only weakly connected with increases in age at marriage. In turn, changes in the number of children desired are determined mainly by urbanization, by increases in years of schooling, and by exposure to mass media, while changes in contraceptive prevalence are associated with increases in media exposure, mainly television, improvements in economic status, and reductions in infant mortality. Increases in schooling are the primary determinant of increases in age at marriage. These generalizations are shown graphically for all of the countries, and the conclusions are derived from a series of multivariate analyses of these relationships based on 207 internal regions of the 24 countries. Average changes in all of these determinants are also included for 16 Asian and Latin American countries for comparative purposes. They show the direction that the sub-Saharan African countries are heading.