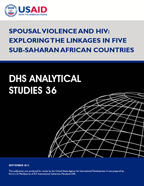 Document Type

Publication Topic(s)

Country(s)

Language

English

Recommended Citation

MacQuarrie, Kerry L.D., Rebecca Winter, and Sunita Kishor. 2013. Spousal Violence and HIV: Exploring the Linkages in Five sub-Saharan African Countries. DHS Analytical Studies No. 36. Calverton, Maryland, USA: ICF International.

Download Citation

Publication Date

September 2013

Publication ID

AS36
Abstract:
A consensus has emerged that intimate partner violence contributes to women's vulnerability to HIV. Most—but not all—cross-sectional studies support this association, while results from longitudinal studies are more mixed. Studies differ in definitions of violence, inclusion of partner data, and extent to which they model potential causal pathways; all of which could account for the variation in their conclusions. The usual interpretation given to an association, if detected, is that violence increases the risk of HIV. Yet, a direct effect is unlikely, since there is no apparent direct pathway leading from most forms of spousal violence to HIV infection, with the exception of sexual violence. This study examines the relationship between spousal violence and women's HIV status using DHS data from five African countries. It uses couples data and nuanced measures of five forms of violence. We apply a gender-based framework in which the association between spousal violence and a woman's HIV status are mediated by the couple's HIV risk factors. A series of models tests the direct effect of spousal violence and role of risk factors as mediators. In multiple countries, a significant association is initially observed between all forms of violence and women's HIV status, except sexual violence. Associations between spousal violence and risk factors on one hand, and between these factors and women's HIV status on the other suggest several mediators. When added to the model, spousal violence no longer predicts women's HIV status, with the exception of physical violence.