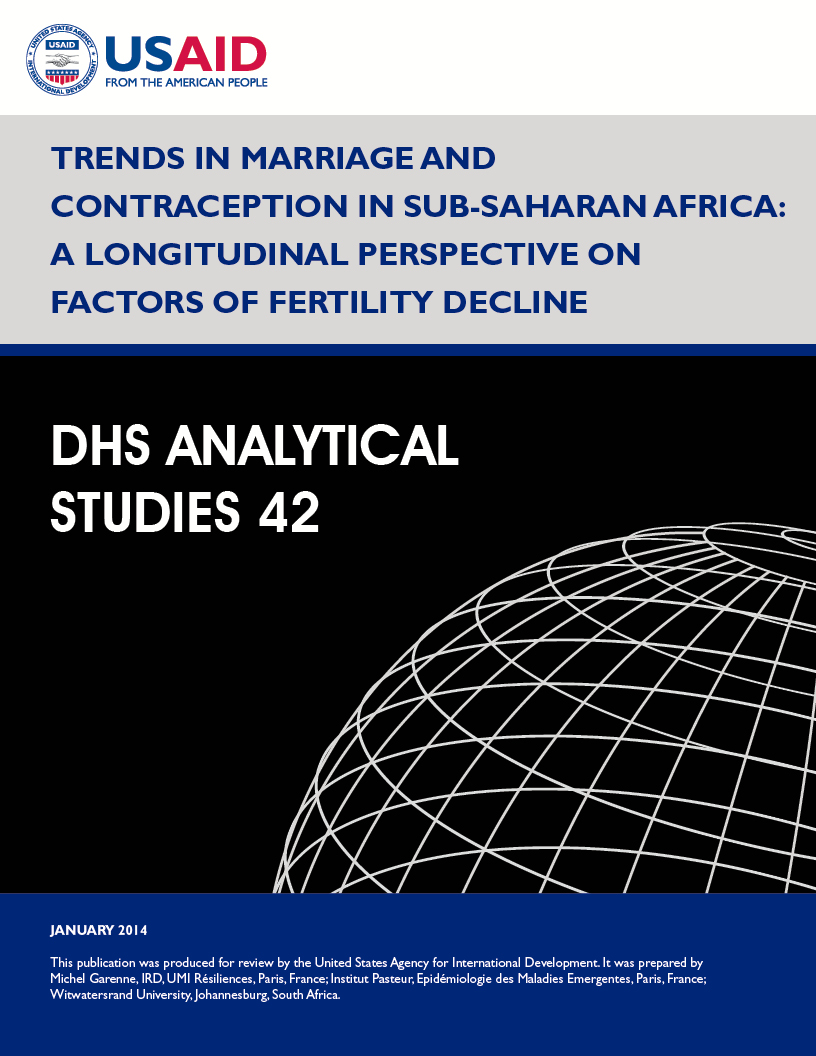 Document Type

Publication Topic(s)

Language

English

Recommended Citation

Garenne, Michel. 2014. Trends in Marriage and Contraception in sub-Saharan Africa: a Longitudinal Perspective on Factors of Fertility Decline. DHS Analytical Studies No. 42. Rockville, Maryland, USA: ICF International.

Download Citation

Publication Date

January 2014

Publication ID

AS42
Abstract:
The study presents an analysis of the relationships between trends in age at marriage, trends in contraceptive use and fertility trends in 33 sub-Saharan African countries. The Demographic and Health Surveys (DHS) provided all of the data on marriage, contraception and fertility. Median age at marriage was defined as the age at which half of a cohort is ever-married. Contraceptive use was defined as ever-use of modern contraception by age 40. Fertility was defined as cumulated fertility by age 40. Median age at marriage of synthetic cohorts increased by some 3.3 years between 1950 and 2005 in urban areas, and some 1.1 years in rural areas. Trends in age at marriage had little correlation with trends in level of education, or with trends in income per capita. Fertility trends also had virtually no correlation with trends in age at marriage in countries studied. Contraceptive use increased in all countries studied. Trends in contraceptive use were highly correlated with fertility trends. Overall, in urban areas fertility was reduced by 49% by year 2005, while ever-use of contraception reached 49% of the population. In rural areas, fertility was reduced by 14% by year 2005, while ever-use of contraception reached 28% of the population. In multivariate analysis, trends in ever-use of contraception explained about half of fertility trends. In contrast, whatever the model, the role of age at marriage appeared small, explaining less than 10% of fertility decline, and was further compounded by the emergence of premarital fertility, especially in urban areas.