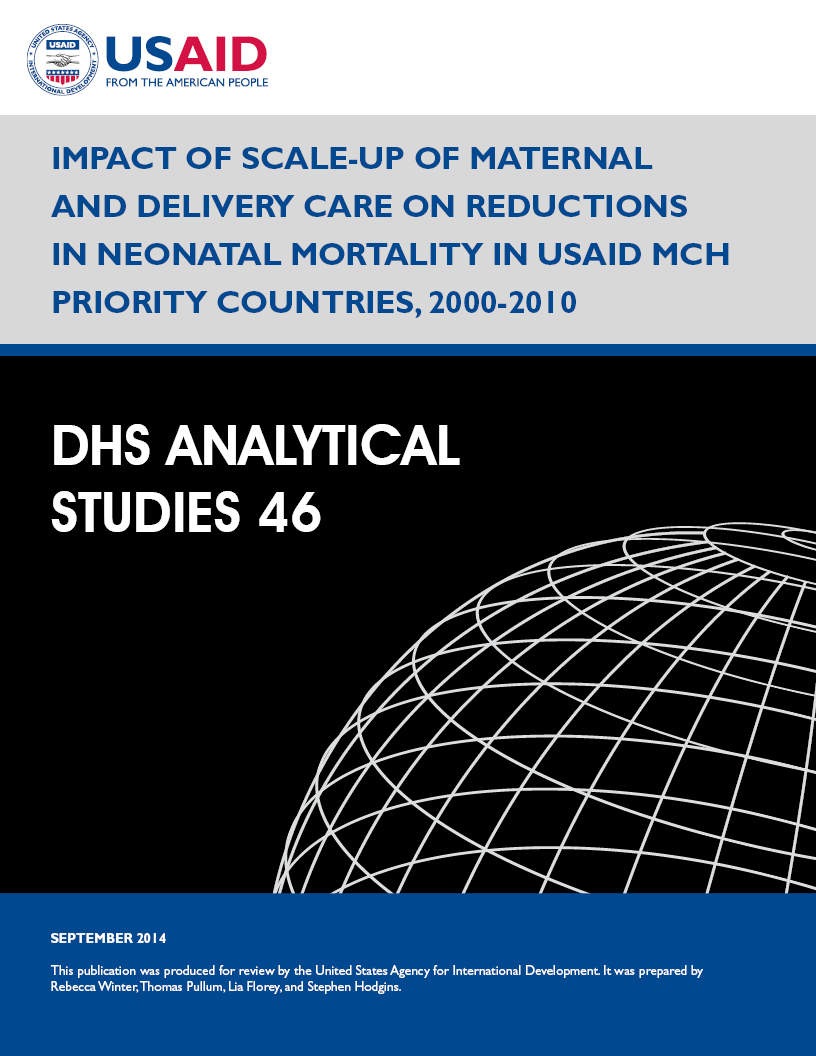 Document Type

Publication Topic(s)

Language

English

Recommended Citation

Winter, Rebecca, Thomas Pullum, Lia Florey, and Steve Hodgins. 2014. Impact of Scale-up of Maternal and Delivery Care on Reductions in Neonatal Mortality in USAID MCH Priority Countries, 2000-2010. DHS Analytical Studies No. 46. Rockville, Maryland, USA: ICF International.

Download Citation

Publication Date

September 2014

Publication ID

AS46
Abstract:
Globally, the impressive gains in under-five mortality between 2000 and 2010 have been accompanied by more modest reductions in neonatal mortality. Of the 18 USAID priority countries for maternal and child health with two DHS surveys available around the years 2000 and 2010, only nine have shown statistically significant reductions in neonatal mortality. In six of the nine countries, these reductions remain significant after restricting the study population to most recent children born in the five years preceding the survey. The study investigates the extent to which scale-up of maternal and delivery care is associated with reductions in neonatal mortality among most recent children born in the six countries. We find surprisingly little evidence that changes in coverage of measurable indicators of maternal and delivery care contributed to the improvements in neonatal survival. In the three malarious countries with complete mosquito bednet data for both surveys, household ownership of a mosquito bednet stands out as a driver of the observed reductions. This finding highlights the importance of malaria control in the arsenal of maternal and child health interventions. Overall, weak associations between other indicators of maternal and delivery care and neonatal survival were observed. This may be the result of limitations of population-based surveys to measure accurately the protective aspects of the interventions. The weak findings may also point to an issue of quality of care, highlighting the need to ensure that there is an emphasis on strengthening health systems and improving the quality of care alongside efforts to increase use of delivery health services.