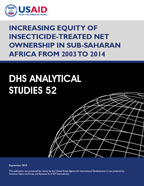 Document Type

Publication Topic(s)

Language

English

Recommended Citation

Taylor, Cameron, Lia Florey, and Yazoume Ye. 2015. Increasing Equity of Insecticide-Treated Net Ownership in Sub-Saharan Africa from 2003 to 2014. DHS Analytic Studies No. 52. Rockville, Maryland, USA: ICF International.

Download Citation

Publication Date

September 2015

Publication ID

AS52
Abstract:
An increase in funding for malaria control in the past decade has resulted in a dramatic increase in ITN ownership and use in sub-Saharan Africa (SSA). There is a need to ensure equal access to the benefits of ITNs across socioeconomic groups. Using data from the Demographic Health Surveys (DHS) and Malaria Indicator Surveys (MIS), this study assesses change in disparity in ITN ownership among households from different socioeconomic groups between baseline (2003-2008) and endline (2009-2014) periods. The analysis compared Lorenz Concentration Curve (C-Curve) and Index (C-Index) values over time to assess changes in economic equity both at the individual country-level and pooled across all countries. Results show evidence of increasing equity in household ownership of at least one ITN by household wealth between baseline and endline periods. In 14 of 19 nineteen countries analyzed, ITN ownership either became more equitable or maintained equity between baseline and endline. Pooled analyses substantiated findings that the rapid and significant increase in ITN ownership has reduced or removed the previous bias that favored wealthy households. Findings from this study support the hypothesis that increased ITN coverage has been accompanied by reduced socioeconomic inequity in ITN ownership over the past 10 years.