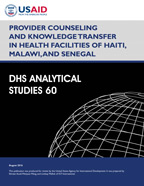 Document Type

Publication Topic(s)

Country(s)

Language

English

Recommended Citation

Assaf, Shireen, Wenjuan Wang, and Lindsay Mallick. 2016. Provider Counseling and Knowledge Transfer in Health Facilities of Haiti, Malawi, and Senegal. DHS Analytical Studies No. 60. Rockville, Maryland, USA: ICF International.

Download Citation

Publication Date

August 2016

Publication ID

AS60
Abstract:
Effective counseling by health care providers can increase client's knowledge and improve health outcomes. This study uses data from the Service Provision Assessment (SPA) surveys in Haiti (2013), Malawi (2013-14), and Senegal (2012-2013 and 2014) to examine levels of counseling and the extent to which observations of counseling given by providers agree or disagree with client reports of counseling received. The analysis focuses on counseling during antenatal care (ANC), family planning, and sick child visits in health care facilities of the three countries studied. The results reveal overall low levels of counseling observed for many of the counseling topics during ANC, family planning, and sick child visits. Overall, agreement in five counseling topics related to ANC is generally low. For family planning, estimates reveal a fair level of agreement between observed and client-reported counseling in all three countries. Agreement was low to fair for most topics related to sick child counseling, with the highest level of agreement when both the observation and client report agreed that counseling did not occur. Regression analysis revealed that the strongest predictor of client knowledge related to ANC was when both observed counseling and client reports agreed that counseling occurred. Results of this study indicate a need for improvement in the quality of counseling, suggested by the lack of overall counseling, the low level of client-observation agreement that counseling occurred, and the finding that a key factor in increasing client knowledge is for the client to acknowledge having received the counseling provided.