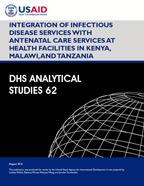 Document Type

Publication Topic(s)

Country(s)

Language

English

Recommended Citation

Mallick, Lindsay, Rebecca Winter, Wenjuan Wang, and Jennifer Yourkavitch. 2016. Integration of Infectious Disease Services with Antenatal Care Services at Health Facilities in Kenya, Malawi, and Tanzania. DHS Analytical Studies No. 62. Rockville, Maryland, USA: ICF International.

Download Citation

Publication Date

August 2016

Publication ID

AS62
Abstract:
The disproportionate demand for services related to infectious diseases such as HIV/AIDS, tuberculosis, and malaria among pregnant women in sub-Saharan Africa, given limited health facility attendance, drives a need to integrate these services with antenatal care (ANC). This paper uses data from Service Provision Assessments in Kenya (2010), Malawi (2013-14), and Tanzania (2014-15) to examine aspects of integrating services for HIV, specifically prevention of mother-to-child transmission (PMTCT), tuberculosis, and malaria into ANC services. For the study, we defined five components of ANC integration with each infectious disease service and created an integration score for each infectious disease by averaging the components. We examined the extent to which the health facility's integration capacity was associated with selected facility characteristics and women's receipt of integrated services during ANC visits. Overall, facilities with ANC had higher integration scores for PMTCT and malaria than for tuberculosis, although availability of the integration components varied by background characteristics across and within countries. Logistic regression results show that the ANC-malaria integration score was associated with consuming sulfadoxine-pyrimethamine (SP) in Kenya and Tanzania, and the ANC-PMTCT integration score was associated with receiving HIV counseling and testing during observed ANC visits in Tanzania. The only integration component associated with SP consumption, aside from having SP available, was the presence of at least one ANC provider at the facility who also provides malaria services and has recent training in these services. The only ANC-PMTCT component with a significant association with observation of HIV counseling and testing, except for the availability of HIV rapid diagnostic testing, was having HIV counseling and ANC services at the same site. More research is needed to determine the synergies among the different aspects of integrated services.