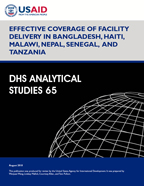 Document Type

Publication Topic(s)

Country(s)

Language

English

Recommended Citation

Wang, Wenjuan, Lindsay Mallick, Courtney Allen, and Tom Pullum. 2018. Effective Coverage of Facility Delivery in Bangladesh, Haiti, Malawi, Nepal, Senegal, and Tanzania. DHS Analytical Studies No. 65. Rockville, Maryland, USA: ICF.

Download Citation

Publication Date

August 2018

Publication ID

AS65
Abstract:
This report uses data from Demographic and Health Surveys (DHS) and Service Provision Assessments (SPA) to estimate effective coverage of health facility delivery in Bangladesh, Haiti, Malawi, Nepal, Senegal, and Tanzania—the six countries with both an SPA and a DHS survey occurring within two years of each other. Effective coverage can be considered as crude coverage—the conventional measure of the percentage of births delivered in a health facility—adjusted for the quality of care provided. In our analysis, quality of care for health facility delivery was measured using facility readiness scores, based on availability of items necessary for a facility to provide comprehensive delivery care. Results show that the estimates of effective coverage were substantially lower than the levels of crude coverage for facility delivery in all six countries—from 20% lower in Nepal to 39% lower in Haiti. Although Malawi has achieved almost universal coverage of facility delivery, at 93% of births, effective coverage was lower, at 66%. Senegal was the only other country with effective coverage higher than 50%. These findings suggest that many women who deliver in a health facility may not receive an adequate quality of care. Within a country, we estimated effective coverage for each region, accounting for facility type. Effective coverage estimates differed significantly among regions in every country with the exception of Malawi. Because facility readiness scores differed little across regions, the largest factor explaining regional differences in effective coverage was the prevalence of facility delivery for recent births. This study offers refined methods of producing effective coverage estimates of delivery care due to its adjustment for facility types and composition of a readiness score based on international guidance and empirical evidence. The fact that estimates of effective coverage—which account for a facility's preparedness to provide the care—are substantially lower than the estimates using conventional measures of facility coverage provides insight into why maternal and neonatal mortality rates in many countries are not declining as rapidly as expected.