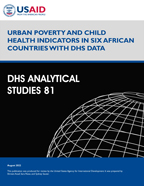 Document Type

Publication Topic(s)

Country(s)

Language

English

Recommended Citation

Assaf, Shireen, Sara Riese, and Sydney Sauter. 2022. Urban Poverty and Child Health Indicators in Six African Countries with DHS Data. DHS Analytical Studies No. 81. Rockville, MD, USA: ICF.

Download Citation

Publication Date

August 2022

Publication ID

AS81
Abstract:
There has been a rapid growth in urban areas, especially in low- and middle-income countries. The increasing urban population, as well as rural to urban migration, has led to the growth of urban poor areas and slums. Disparities between rural and urban populations in health outcomes and access to health services have been well documented. Less examined are the potential disparities within the urban populations. This report uses DHS data and a UN-HABITAT definition for slums to construct an urban poverty measure with three categories: urban poor, urban non-poor, and rural areas. Six countries were included in the analysis: Democratic Republic of the Congo (DRC), Ethiopia, Kenya, Nigeria, Tanzania, and Uganda. Several child health indicators were examined including health facility delivery, zero-dose children, feeding practices during diarrhea, underweight and overweight, and breastfeeding timing. The results show large disparities between urban poor and urban non-poor for health facility delivery in all countries, underweight in five countries (except Tanzania), and zero-dose children in two countries (DRC and Ethiopia). The remaining indicators did not show consistent differences between the urban poor and urban non-poor for all countries. However, in the DRC, there were significant differences between the urban poor and urban non-poor for all child health indicators, except for overweight or obese. Further analysis of the urban poverty measure revealed the lower availability of health facilities in urban poor areas compared to urban non-poor, regardless of the type of facility. In addition, mothers of urban poor children had lower education and lower cash earnings, and reported more problems accessing health care, especially due to costs and distance compared to the urban non-poor mothers. The results highlight the need for effective urban planning programs that ensure equitable access to health services, as well as improvements in infrastructure and economic opportunities for the urban poor.