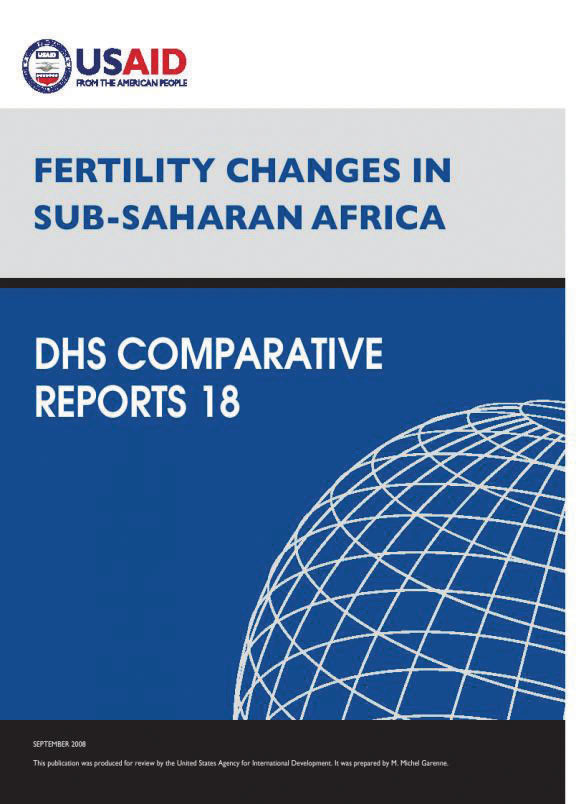 Document Type

Publication Topic(s)

Language

English

Recommended Citation

Garenne, Michel. 2008. Fertility Changes in Sub-Saharan Africa. DHS Comparative Reports No. 18. Calverton, Maryland, USA: Macro International

Download Citation

Publication Date

September 2008

Publication ID

CR18
Abstract:
The study provides an overview on fertility trends in Africa in the second part of the century. Trends in cohort and period fertility were reconstructed using WFS/DHS data 20th sets for 31 countries in sub-Saharan Africa. Cohort fertility rose from the 1930 cohort to the 1950 cohort, and then tended to decline. The increase in cohort fertility seemed most often due to a decline in infertility, and to a lesser extent to decreasing age at first marriage associated with monotheist religions. Period fertility followed a similar pattern of rise and fall from 1950 to 2000. The Total Fertility Rate at age 40 increased from 5.3 children per woman in 1950 to 6.2 in 1975, then declined to 4.9 in year 2000. A regression model indicated that some 37% of the decline was attributable to contraceptive use, 24% to age at marriage, and 16% to urbanization. The dynamics of fertility decline were different in urban and rural areas.