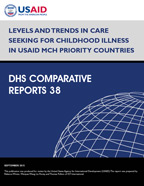 Document Type

Publication Topic(s)

Language

English

Recommended Citation

Winter, Rebecca, Wenjuan Wang, Lia Florey, and Thomas Pullum. 2015. Levels and Trends in Care Seeking for Childhood Illness in USAID MCH Priority Countries. DHS Comparative Reports No. 38. Rockville, Maryland, USA: ICF International.

Download Citation

Publication Date

September 2015

Publication ID

CR38
Abstract:
This study uses Demographic and Health Survey (DHS) data to examine patterns and trends in care seeking for children who have experienced recent fever, symptoms of acute respiratory infection (ARI), or diarrhea in USAID maternal and child health (MCH) priority countries. Overall, current levels of care seeking among children with recent illness vary widely across the 21 priority countries, from nearly 90 percent in the Indonesia 2012 survey to 33 percent in Ethiopia 2011. Results show that care seeking from public sources is predominant in African MCH priority countries while care seeking from private sources is predominant in Asian MCH priority countries. The majority of countries did not show significant improvements between the two most recent DHS surveys in the level of care seeking for fever or symptoms of ARI, although care seeking for diarrhea showed more widespread improvement. The use of appropriate antimalarial treatment varied widely across MCH priority countries. Despite the widespread increase in care seeking for diarrhea, there has not been a parallel increase in coverage of appropriate treatment for diarrhea. In conclusion, our results show that the percentage of children with diarrhea, fever, and symptoms of ARI who reach the health system remains low in many high childhood mortality settings. Findings would be most useful when interpreted at the country-level, with national childhood illness management goals in mind.