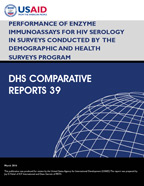 Document Type

Publication Topic(s)

Language

English

Recommended Citation

Fishel, Joy, and Dean Garrett. 2016. Performance of Enzyme Immunoassays for HIV Serology in Surveys Conducted by The Demographic and Health Surveys Program. DHS Comparative Reports No. 39. Rockville, Maryland, USA: ICF International.

Download Citation

Publication Date

March 2016

Publication ID

CR39
Abstract:
Since 2001, The Demographic and Health Surveys Program has conducted HIV testing in surveys to measure HIV prevalence. Recently, concerns have been raised that the testing strategy used in these surveys may result in overestimation of HIV prevalence. This report analyzes existing laboratory data from 20 recent surveys to assess two indicators of the performance of the enzyme immunoassays (EIAs) used in the HIV testing algorithms: agreement between the two EIAs used in the algorithm for each survey, and the distribution of signal-to-cutoff (S/CO) values for each assay. S/CO values are a measure of the strength of the reaction on an assay. Specimens with high S/CO values are more likely to be true positive specimens than those with low S/CO values. However, false positive results can have high S/CO values. Overall agreement between the two EIAs reached the optimal value of 99 percent or greater in 6 of the 20 surveys. Analysis of the S/CO values shows that the majority of specimens with low S/CO values (less than 5.0) on the first EIA were found negative during later stages of the testing algorithm—reducing, but not eliminating concerns about false positive results. In 4 of 20 surveys, the proportion of final positive specimens found to have low S/CO values was greater than 20 percent. This analysis can provide general insight into the quality of testing and the potential for false positivity in HIV test results, but it does not include retesting of EIA positive specimens on a more specific assay, which would be required to quantify any over- or underestimation in a survey's HIV prevalence estimate. Nevertheless, the risk of false positive results does appear to vary widely across surveys. In addition, the impact that any testing error would have on the accuracy of the prevalence estimate for a survey must be considered in the context of other errors affecting this estimate, notably sampling error and selection bias. These results suggest the need for more vigilance in the quality of laboratory testing, with even more checks built in to every step of the testing process. Finally, testing strategies that include a confirmatory assay should reduce false positivity and improve the accuracy of HIV prevalence estimates.