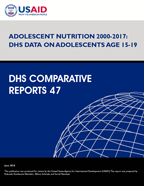 Document Type

Publication Topic(s)

Language

English

Recommended Citation

Benedict, Rukundo K., Allison Schmale, and Sorrel Namaste. 2018. Adolescent Nutrition 2000-2017: DHS Data on Adolescents Age 15-19. DHS Comparative Reports No. 47. Rockville, Maryland, USA: ICF.

Download Citation

Publication Date

June 2018

Publication ID

CR47
Abstract:
Adolescence is an important stage in the lifecycle for growth and development. During this time, adolescents achieve 15%-20% of their adult height, up to 60% of their skeletal mass, and half their adult body weight (Spear 2002). To support their rapid growth and development, adolescents have an increased need for energy, protein, iron, and other micronutrients (Spear 2002). The period of adolescence also presents an opportunity to lay a positive foundation for healthy offspring from early childhood on to adulthood (Prentice et al. 2013). This report summarizes information on nutrition for adolescent girls and boys age 15-19, using data from Demographic and Health Surveys (DHS), conducted in 65 low-income and 22 middle-income countries. The report describes the current prevalence of anthropometric measurements, childbearing, anemia, iron supplementation, and women's dietary diversity. It compares nutritional indicators for adolescents with those for adults. It also examines nutritional trends from 2000-17 and describes the prevalence of key nutrition variables stratified by education level, employment, residence, and wealth.