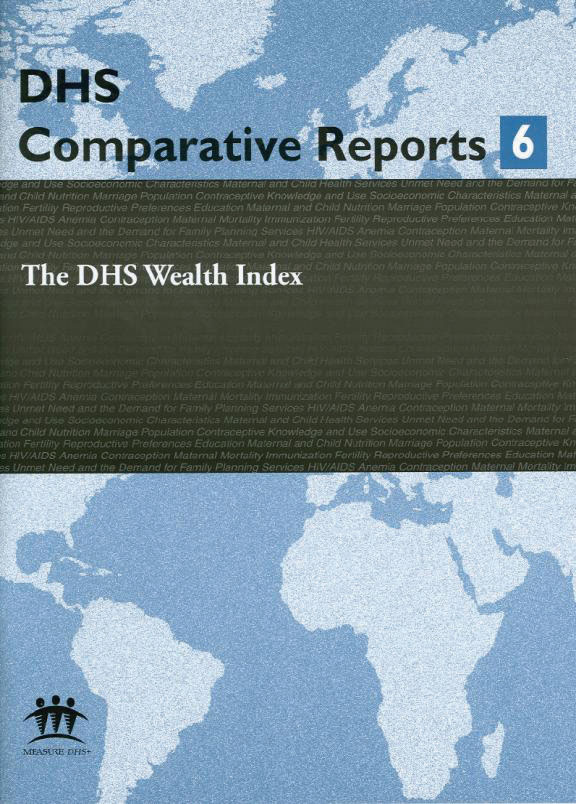 Document Type

Publication Topic(s)

Language

English

Recommended Citation

Rutsein, Shea O. and Kiersten Johnson. 2004. The DHS Wealth Index. DHS Comparative Reports No. 6. Calverton, Maryland, USA: ORC Macro.

Download Citation

Publication Date

August 2004

Publication ID

CR6
Abstract:
The DHS wealth index is an attempt to make better use of existing data in the Demographic and Health Surveys in a systematic fashion to determine a household's relative economic status. This report documents the philosophy, history, and background of the DHS wealth index and describes the methodology employed in its construction and the decisions made about possible variations in the methodology. After discussion of the advantages and disadvantages of using a wealth index as opposed to income and expenditure measures of economic status, a comparison is made between the wealth index and the expenditure index in a particular setting. This comparison shows that the wealth index explains the same or a greater amount of the differences between households on a set of health indicators, even though the wealth index requires far less effort from respondents, interviewers, data processors, and analysts. Comparisons are made for five selected countries in the distribution of wealth among households and for some key demographic and social indicators. Additionally, key health, education, and use of public services indicators are tabulated according to quintile of the population distribution of household wealth, and comparative results for health indicators in the poorest quintile are presented for 44 countries. The use of the wealth index for addressing the needs of the poor is discussed and illustrated through poverty maps and nongeographic analysis. Also discussed is the joining of the wealth index to more traditional measures of poverty.