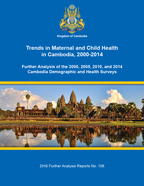 Document Type

Publication Topic(s)

Country(s)

Survey

Language

English

Recommended Citation

Mallick, Lindsay, Courtney Allen, and Rathavuth Hong. 2016. Trends in Maternal and Child Health in Cambodia, 2000-2014. Further Analysis of the 2000, 2005, 2010, and 2014 Cambodia Demographic and Health Surveys. DHS Further Analysis Reports No. 106. Rockville, Maryland, USA: ICF

Download Citation

Publication Date

January 2018

Publication ID

FA106
There is no printed copy available to order.
Abstract:
This report examines the trends in maternal and child health over a 14-year period (2000-2014) in Cambodia. The analysis draws from four nationally representative household surveys conducted by The Demographic and Health Surveys Program in 2000, 2005, 2010, and 2014. We examined estimates of indicators of antenatal care, delivery, and postnatal care for women as well as size at birth, breastfeeding, immunization coverage, care-seeking, and nutritional status of children. We tested for the significance of the change of these estimates at the national level as well as by sociodemographic characteristics. The results revealed significant improvement in a number of indicators, although the greatest changes appeared between 2000 and 2010, with fewer gains seen between 2010 and 2014. For many indicators examined in this report, significant disparities continued over time, most notably among regions, wealth quintiles, and levels of mothers' education. Overall, the trends in maternal and child health care in Cambodia are positive, though continued efforts are needed to ensure that there is equitable access to health services for all women and children.