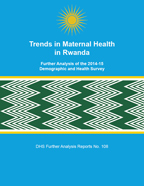 Document Type

Publication Topic(s)

Country(s)

Survey

Language

English

Recommended Citation

Assaf, Shireen, Sarah Staveteig, and Francine Birungi. 2018. Trends in Maternal Health in Rwanda: Further Analysis of the 2014-15 Demographic and Health Survey. DHS Further Analysis Reports No. 108. Rockville, Maryland, USA: ICF.

Download Citation

Publication Date

January 2018

Publication ID

FA108
Abstract:
This report examines levels, trends, and inequalities in maternal health in Rwanda from 2010 to 2014-15 among women age 15-49 with a recent birth. The analysis uses Demographic and Health Survey (DHS) data for 15 key indicators of maternal health: 6 for antenatal care, 3 for delivery, 1 for postnatal care, and 5 for barriers to accessing medical care. Levels and trends in these indicators were analyzed overall and by three background characteristics: women's education, household wealth quintile, and region. A further analysis of disparities by wealth quintile was also performed, using the concentration index. Overall, the results show substantial improvements for 6 of the 9 key indicators of antenatal care, delivery care, and postnatal care, as well as a decrease in reported barriers to care. However, a majority of women still receive fewer than the recommended number of at least four antenatal care visits, do not receive a postnatal checkup within 2 days following delivery, and report at least one serious problem in obtaining health care. The study also shows persistent disparities by education, wealth, and region. In both surveys, 11 of the 15 health indicators were significantly unequal by women's household wealth status. Moreover, 8 indicators were even more unequal by household wealth status in 2014-15 than in 2010. Sometimes, gains can occur faster among the wealthiest than the poorest. Nevertheless, as maternal health care improves in Rwanda, additional initiatives and outreach should be directed to disadvantaged groups and regions in order to ensure better equity in maternal health.