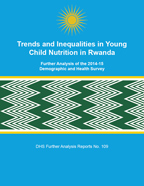 Document Type

Publication Topic(s)

Country(s)

Survey

Language

English

Recommended Citation

Yourkavitch, Jennifer. 2018. Trends and Inequalities in Young Child Nutrition in Rwanda: Further Analysis of the 2014-15 Demographic and Health Survey. DHS Further Analysis Reports No. 109. Rockville, Maryland, USA: ICF.

Download Citation

Publication Date

January 2018

Publication ID

FA109
Abstract:
This report documents trends in key child nutrition indicators in Rwanda. Data from the Demographic and Health Surveys (DHS) in 2005, 2010, and 2014-15 were analyzed, disaggregated by selected equity-related variables, and tested for trends. Over the survey period, Rwanda had high rates of exclusive breastfeeding, with regional variation. Rates of continued breastfeeding were also high but generally decreased as mother's education and household wealth increased in all survey years. Complementary feeding practices varied by region, mother's education, household wealth, urban-rural residence, and sex of the child. Generally, consumption of vitamin A-rich foods was high but consumption of iron-rich foods was low, with differences by household wealth. Consumption of iron-rich foods also varied by region, urban-rural residence, and mother's education. There were substantial differences in the prevalence of stunting by urban-rural residence, region, and household wealth, and between boys and girls. These findings suggest that strategies are warranted to increase the prevalence of optimal breastfeeding in urban areas and among the wealthier and more educated. Urgent efforts to improve appropriate complementary feeding practices are needed, and these practices should be monitored by socioeconomic characteristics, residential status, and region in order to focus on groups and areas most in need. Strategies to improve complementary feeding practices among rural residents, poor households, and mothers with less education should be tested, along with specific regional strategies.