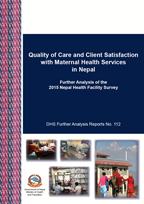 Document Type

Publication Topic(s)

Country(s)

Survey

Language

English

Recommended Citation

Acharya, S., S. Sharma, B. Dulal, and K. Aryal. 2018. Quality of Care and Client Satisfaction with Maternal Health Services in Nepal: Further Analysis of the 2015 Nepal Health Facility Survey. DHS Further Analysis Reports No. 112. Rockville, Maryland, USA: ICF.

Download Citation

Publication Date

July 2018

Publication ID

FA112
Abstract:
This report presents further analysis of the 2015 Nepal Health Facility Survey. Data analysis is based on the Donabedian framework for assessing quality of care in health services, which divides the indicators into three groups: structure, process, and outcome. The World Health Organization Service Availability and Readiness Assessment (SARA) indicator guideline was used to assess facility service readiness and service quality, and client satisfaction with maternal health services. The study performed both bivariate and multivariate regression analysis to examine the association of maternal health service readiness and quality indicators with client satisfaction. The analysis revealed that 38% of antenatal care clients were very satisfied with the services provided at the health facility. Aspects such as nonpayment of service fees, sex of service provider, and regularity of conducting facility management committee meetings were significant predictors for client satisfaction with antenatal care services. Antenatal care clients were more satisfied if the facility had high service readiness and if they were not required to pay for the services received in the visit. Clients of Terai/Madhesi and other castes reported a higher level of satisfaction compared with the Brahmin/Chhetri. About half of postpartum clients were very satisfied with the services provided. Postpartum clients had 3.4 times higher odds of being satisfied in postpartum care if the facility had a protected client waiting area available compared with facilities without a protected waiting area. However, client satisfaction with postpartum care was not significantly associated with the service readiness indicator.