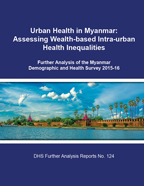 Document Type

Publication Topic(s)

Country(s)

Survey

Language

English

Recommended Citation

Sann-Lwin, Kyawt, and Lwin Lwin Aung. 2019. Urban Health in Myanmar: Assessing Wealth-based Intraurban Health Inequalities. Further Analysis of the Myanmar Demographic and Health Survey 2015-16. DHS Further Analysis Reports No. 124. Rockville, Maryland, USA: ICF.

Download Citation

Publication Date

March 2019

Publication ID

FA124
Abstract:
According to the 2015-16 Myanmar Demographic and Health Survey, urban health indicators are generally better than rural indicators. However, it is necessary to assess whether all urban dwellers enjoy the same health benefits of urban residence. This study aims to identify the magnitude and pattern of wealth-based health inequalities in urban Myanmar. The study is a secondary analysis of DHS data that uses the urban wealth index as an equity stratifier and three health impact indicators, six intervention indicators, and nine risk/behavior indicators as dependent variables. The study finds that indicators are at a reasonable level for the urban population overall, but these successes have failed to reach the poorest group in urban Myanmar. The three health impact indicators show inequality gaps with a pattern of marginalization in which most population groups experienced better health than the poorest group. Furthermore, most indicators for coverage of interventions and risk/behavior indicators also show inequality gaps with some degree of marginalization. Reproductive health service indicators are an exception. The study concludes that the urban poor face barriers in the use of health services and that there are inequalities in the determinants of health. These barriers may be addressed by adopting pro-poor strategies and proactively targeting the urban poor to improve service delivery and achieve universal health coverage. Addressing inequality in the determinants of health also requires intersectoral action and advocacy for "health in all policies," and the development of an inequality monitoring system that can ensure the Myanmar health system's accountability in addressing the wealth-based health inequalities that exist among urban subpopulation groups.