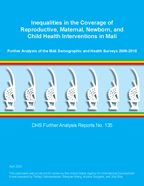 Document Type

Publication Topic(s)

Country(s)

Language

English

Recommended Citation

Gebreselassie, Tesfayi, Wenjuan Wang, Arouna Sougane, and Sidy Boly. 2020. Inequalities in the Coverage of Reproductive, Maternal, Newborn, and Child Health Interventions in Mali: Further Analysis of the Mali Demographic and Health Surveys 2006-2018. DHS Further Analysis Report No. 135. Rockville, Maryland, USA: ICF.

Download Citation

Publication Date

April 2020

Publication ID

FA135
There is no printed copy available to order.
Abstract:
This report examined the coverage of eight reproductive, maternal, newborn, and child health (RMNCH) indicators and analyzed inequality stratified by wealth quintile for the Mali 2006, 2012-13, and 2017-18 Demographic Health Surveys. The coverage for these indicators are used by Countdown 2030 (www.countdown2030.org) to monitor progress on the RMNCH continuum of care, either separately for Countdown 2030 member countries or globally. Well-established absolute and relative measures of inequality are used to explore the progress in RMNCH coverage, which has been disaggregated by wealth quintiles. Results from all measures of inequality revealed that greater inequalities between women in the top and bottom wealth quintiles were found for reproductive and maternal health care coverage, while the least inequality was observed for immunisation coverage outcomes. Although long-term trends in the levels of coverage in the eight interventions have shown improvements from 2006 to 2017-18, the inequalities in health outcomes and intervention coverage are widening. Results from this analysis show that overall immunisation coverage in Mali continued to increase during the past decade, although the coverage for children of women in the poorest wealth quintile declined during that time. The composite coverage score revealed that women in the wealthiest quintile were twice as likely as those in the poorest quintile to have coverage for the RMNCH interventions. In addition, the composite coverage scores underscore that gaps in reaching 100% universal coverage were substantial among all wealth status groups.