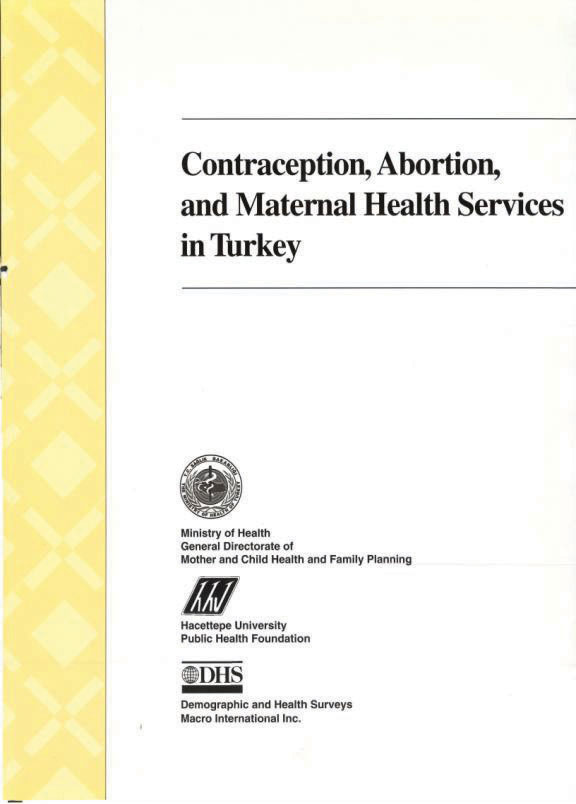 Document Type

Publication Topic(s)

Country(s)

Language

English

Recommended Citation

Akin, Ayse, Münevver Bertan, Turkey General Directorate of Mother and Child Health and Family Planning, and the Public Health Foundation of Hacettepe University. 1996. Contraception, Abortion, and Maternal Health Services in Turkey: Results of Further Analysis of the 1993 Turkish Demographic and Health Survey DHS Further Analysis Reports No. 14. Calverton, Maryland, USA: Macro International

Download Citation

Publication Date

December 1996

Publication ID

FA14
Abstract:
The 1993 Turkish Demographic and Health Survey (TDHS) is designed to provide information on population and health in Turkey. In this survey, data were collected by carrying out interviews with the nationally representative sample of ever-married women less than 50 years old. recent decades have witnessed dramatic declines in fertility rates. In the early 1970s, the total fertility rate was around 5 children per woman, whereas the latest estimates in the late 1980s put the total fertility rate at about 3 children per woman (HIPS, 1989). Mother and child health and family planning services have been given priority status in the antinatalist policies of the government in recent decades due to the large proportion of women of reproductive ages and children in the Turkish population, the high infant, child, and maternal mortality rates, the high demand for family planning services, and the limited prenatal and postnatal car. A number of programs are being implemented, with special emphasis on provinces which have been designated as priority development areas, as well programs focusing on squatter housing districts in metropolitan cities, rural areas, and special risk groups.