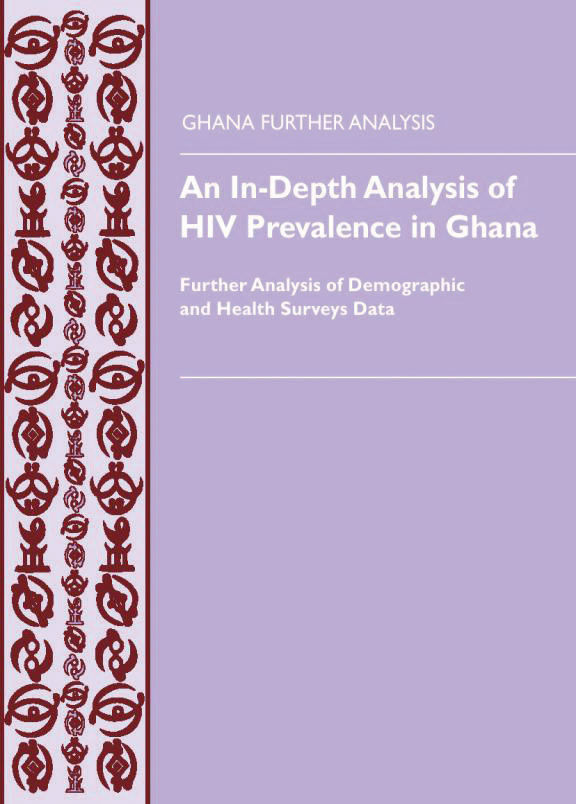 Document Type

Publication Topic(s)

Country(s)

Survey

Language

English

Recommended Citation

Akwara, Priscilla A., Gabriel B. Fosu, Pav Govindasamy, Silvia Alayon, and Ani Hyslop. 2005. An In-Depth Analysis of HIV Prevalence in Ghana: Further Analysis of Demographic and Health Surveys Data. DHS Further Analysis Reports No. 46. Calverton, Maryland, USA: ORC Macro.

Download Citation

Publication Date

April 2005

Publication ID

FA46
Abstract:
This study looks at a sub sample of sexually experienced men and women who were tested for HIV during the 2003 Ghana Demographic and Health Survey (GDHS). Using bivariate and multivariate analysis, the authors examined the association between HIV prevalence and socio demographic characteristics, HIV-related knowledge, attitudes and sexual behavior. The multivariate analysis found strong associations between HIV serostatus and a few socio demographic and behavior variables. Among women, HIV prevalence is significantly associated with early age of sexual debut (by age 15), having more than one sexual partner, and being from Eastern region. Men those who have moved within the last five years are more likely to be HIV positive than men who have in the same residence. Young women age 15 to 19 and young men age 15 to 29 are significantly less likely to be HIV positive than older adults. Knowledge of HIV prevention methods was not associated with HIV infection among men and only weakly associated with HIV infection among women.