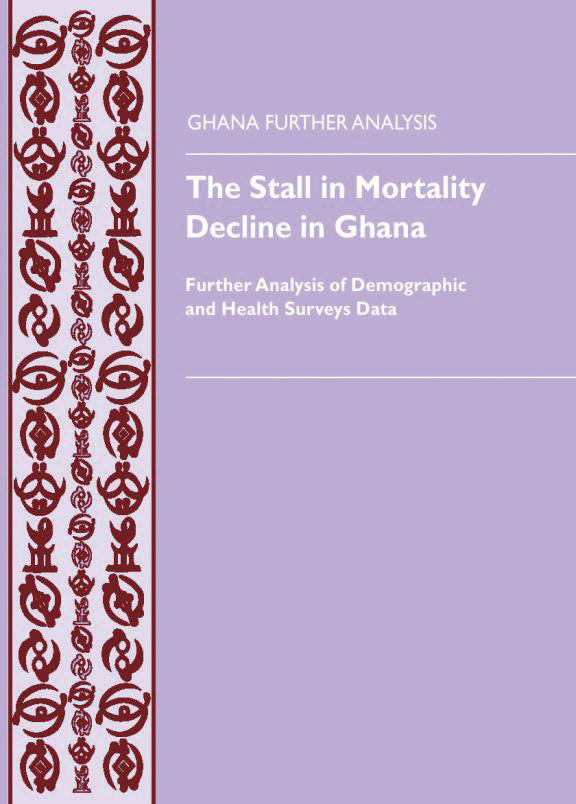 Document Type

Country(s)

Survey

Language

English

Recommended Citation

Johnson, Kiersten, Shea O. Rutstein, and Pav Govindasamy. 2005. The Stall in Mortality Decline in Ghana: Further Analysis of Demographic and Health Surveys Data. DHS Further Analysis Reports No. 47. Calverton, Maryland, USA: ORC Macro.

Download Citation

Publication Date

December 2005

Publication ID

FA47
Abstract:
The second half of the twentieth century bore witness to significant declines in mortality among children in the developing world. Ghana was no exception, experiencing declines in mortality from the 1950s Onward. A series of Demographic and Health Surveys conducted in Ghana documented substantial improvements in infant and childhood mortality rates between 1988 and 1998. The results of the 2003 survey, however, indicated that these rates had plateaued at high levels. There was some concern that mortality might even be on the rise. The purpose of this analysis is to determine whether the stagnation in the decline in childhood mortality in Ghana is real, to describe and evaluate trends in mortality, and to examine the key factors likely to influence mortality levels. This analysis suggests that the apparent uptick in mortality seen in the 2003 GDHS is largely a function of the underestimation of mortality in the previous survey. Thus, while there is no evidence to conclude that child mortality in Ghana is increasing, the past three Ghana DHS surveys provide substantial evidence that the decline in mortality in Ghana has stagnated at high levels. The trend data reviewed here suggest that there may be a continuing problem with children receiving adequate nourishment. There is also room for improvement in maternal and child health care indicators. Policies and programs designed to improve these indicators may help to facilitate the resumption of the downward trend in childhood mortality rates in Ghana.