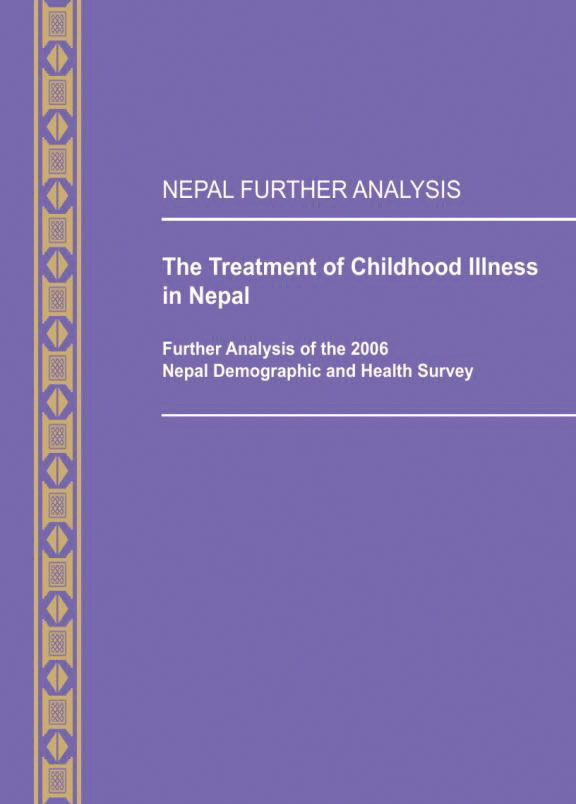 Document Type

Publication Topic(s)

Country(s)

Language

English

Recommended Citation

Quinley, John and Pav. Govindasamy. 2008. The Treatment of Childhood Illness in Nepal: Further Analysis of the 2006 Nepal Demographic and Health Survey. DHS Further Analysis Reports No. 49. Calverton, Maryland, USA: Macro International

Download Citation

Publication Date

January 2008

Publication ID

FA49
Abstract:
The Nepal Demographic and Health Survey (NDHS) is carried out periodically to provide a wide variety of household-level information on health and fertility for Nepal. A nationally representative sample of 10,793 women ages 15-49 was surveyed from 8,707 households throughout Nepal. The women interviewed were asked whether their children younger than five years had diarrhea, fever, or cough in the two weeks prior to the survey. If so, then they were asked a series of questions about the symptoms, whether and where they sought treatment for the illness, and what treatment was given. Similar questions on childhood illness were asked in the 2001 and 1996 NDHS surveys, and they are referenced in this paper for comparison purposes. This paper focuses on additional data that was not analyzed as part of the overall 2006 NDHS final results. Two questions were added to the 2006 NDHS that were not included in earlier DHS surveys in Nepal. The first was whether a child for whom the source of care was "pharmacy" had been examined, and if not, whether the caretaker had received advice about what to give the child. The second question was whether the child was taken to a female Community Health Volunteer (FCHV). Both of these issues have programmatic implications regarding the nature of providers for childhood illness in Nepal. Finally, this working paper looks at the type of treatment by provider to provide further insight into provider behavior and possible gaps in coverage.