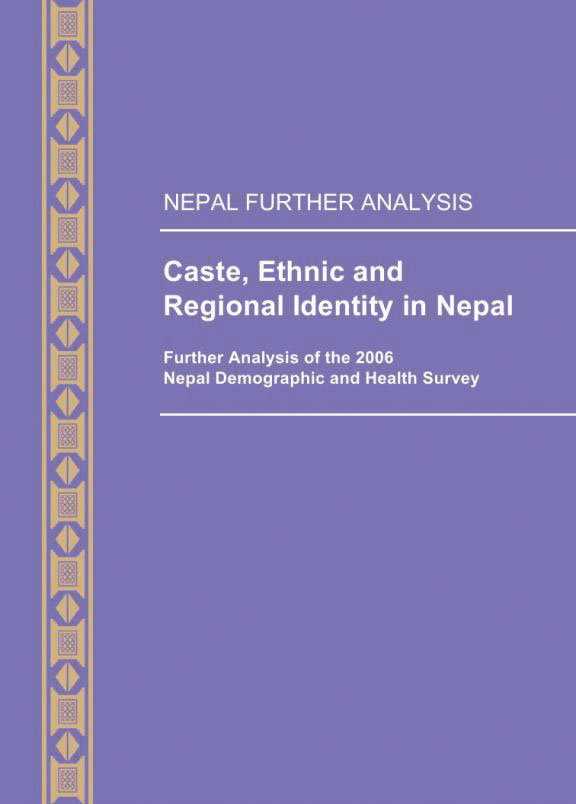 Document Type

Country(s)

Survey

Language

English

Recommended Citation

Bennett, Lynn, Dilli Ram Dahal and Pav Govindasamy. 2008. Caste, Ethnic and Regional Identity in Nepal: Further Analysis of the 2006 Nepal Demographic and Health Survey. DHS Further Analysis Reports No. 58 Calverton, Maryland, USA: Macro International

Download Citation

Publication Date

September 2008

Publication ID

FA58
Abstract:
Although the 2006 Nepal Demographic and Health Survey (NDHS) did collect data on the caste/ethnic identity of its respondents, the initial analysis of the DHS did not examine those dimensions. Analysis by caste or ethnic identity is generally avoided in the analysis of the main findings of the DHS primarily to avoid potentially controversial social categories – which in some countries might reduce government buy-in to critical findings on population and health. However in Nepal, there is wide recognition that an understanding of these dimensions is essential to the development of inclusive policies and programs that respond more effectively to the legitimate needs and demands of Nepal's diverse population. The approach paper to the National Planning Commission's Three Year Interim Plan and the Plan itself are very open about the barriers certain groups have faced in accessing public services and resources in the past and the disparities in outcomes that this has caused. Both documents call for better data and analysis of these disparities as the foundation for more equitable resource allocation and delivery of public services. This paper hopes to make a modest contribution to the ongoing process of understanding and responding to Nepal's diversity by carrying out an initial examination of the 2006 DHS through the lens of caste, ethnic and regional identity. This paper will also keep the gender dimension central since women's membership in different social groups is a major factor in their health and development outcomes.