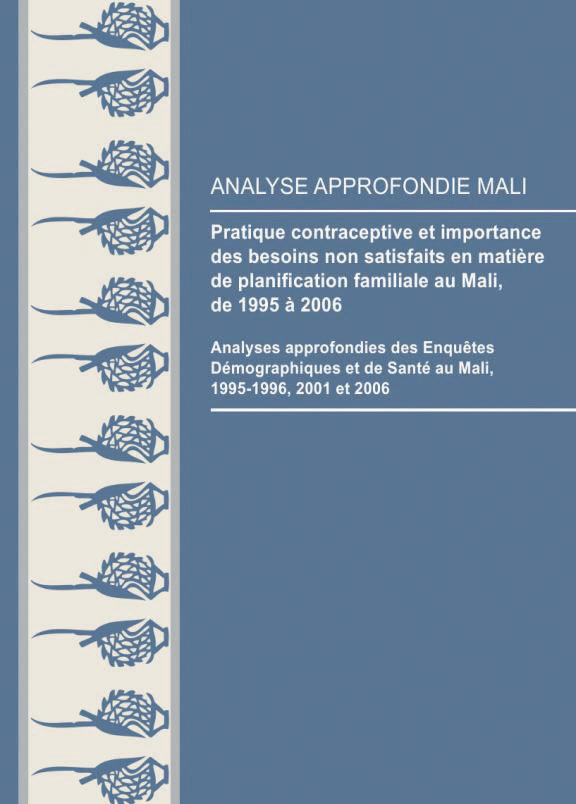 Document Type

Publication Topic(s)

Country(s)

Language

French

Recommended Citation

Mariko, Soumaïla, Mohamed Ayad, Rathavuth Hong, Oumou Kéïta and Mamadou Diop. 2009. Pratique contraceptive et importance des besoins non satisfaits en matière de planification familiale au Mali, de 1995 à 2006: Analyses approfondies des Enquêtes Démographiques et de Santé au Mali, 1995-1996, 2001 et 2006. DHS Further Analysis Reports No. 69. Calverton, Maryland, USA: CPS/DNSI and ICF Macro.

Download Citation

Publication Date

September 2009

Publication ID

FA69
Abstract:
Cette étude s'inscrit dans le cadre des analyses approfondies des résultats de l'Enquête Démographique et de Santé réalisée en 2006 au Mali (EDSM-IV). L'EDSM-IV est la quatrième enquête d'une série réalisée par la Cellule de Planification et de Statistique du Ministère de la Santé et par la Direction Nationale de la Statistique et de l'Informatique du Ministère de l'Économie, de l'Industrie et du Commerce, en collaboration avec l'Institut National de Recherche en Santé Publique (INRSP). Elle a bénéficié de l'assistance technique de Macro International et de l'appui financier de l'USAID, de l'Unicef, de l'UNFPA, de la Coopération Néerlandaise, de la Banque Mondiale et du Gouvernement Malien. Au cours de l'EDSM-IV, des questions ont été posées aux femmes de 15-49 ans concernant leur pratique et leurs opinions en matière de planification familiale. Ces résultats ont permis d'évaluer la prévalence contraceptive et d'estimer les besoins non satisfaits en matière de planification familiale au Mali.