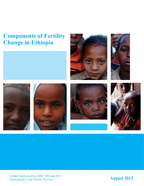 Document Type

Publication Topic(s)

Country(s)

Language

English

Recommended Citation

Teklu, Hailemariam, Aluta Sebhatu, and Tesfayi Gebreselassie. 2013. Components of Fertility Change in Ethiopia: Further Analysis of the 2000, 2005, and 2011 Demographic and Health Surveys. DHS Further Analysis Reports No. 80. Calverton, Maryland, USA: ICF International.

Download Citation

Publication Date

August 2013

Publication ID

FA80
There is no printed copy available to order.
Abstract:
The objectives of this paper are to assess the levels and trends of fertility in Ethiopia and to identify the main contributors to this change using the Bongaarts' Proximate Determinants of Fertility Framework. The data is taken from the three Demographic and Health Surveys undertaken in 2000, 2005 and 2011. The results show that fertility has been declining in the last few years. But this decline is not uniform. Among the regions, Tigray, Amhara, Oromiya and SNNP show a decline in fertility, whereas, Somali and Afar have an increasing trend. In the remaining regions, fertility is stalled or changing very slowly. Fertility is inversely related to the educational level and the wealth status of women. By application of the Bongaarts' model we identify marriage as the most important factor affecting fertility in urban areas as a whole and specifically in Addis Ababa, Dire Dawa and Harari. Postpartum insusceptibility is identified as the main inhibitor in rural areas and in the Tigray, Amhara and Oromiya regions. The effect of contraception is showing an increasing trend in all the regions, with the exception of Somali and Afar. It has the strongest impact in the highly urbanized areas such as Addis Ababa and Dire Dawa cities and the Harari region. Contraception is the most important inhibitor of fertility in women with secondary and higher educational backgrounds and in women in the "rich" wealth status group.