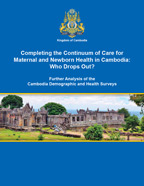 Document Type

Publication Topic(s)

Country(s)

Language

English

Recommended Citation

Wang, Wenjuan, and Rathavuth Hong. 2013. Completing the Continuum of Care for Maternal and Newborn Health in Cambodia: Who Drops Out? DHS Further Analysis Reports No. 85. Calverton, Maryland, USA: ICF International.

Download Citation

Publication Date

May 2013

Publication ID

FA85
Abstract:
Cambodia still suffers high levels of neonatal mortality and maternal mortality, despite recent progress. Continuum of care refers to the continuity of care throughout pregnancy, birth, and after delivery—that is, use of antenatal care, skilled birth attendance, and postnatal care. Assuring continuity of care has become a key program strategy for improving the health of mothers and newborns. Successful service delivery that offers continuum of care relies on understanding where the gaps are in seeking care along the continuum and what factors contribute to these gaps. Three of every five Cambodian women received all three types of maternal care—antenatal care, skilled birth attendance at birth and postnatal care—for their most recent birth, which is a remarkable accomplishment for a country where 30 percent of the population lives below the poverty line. Still, 40 percent did not receive all three maternal services. Regional variation was substantial. The proportion of women who received all three maternal services ranged from 14 percent to 96 percent among Cambodia's 19 provinces. Differences between provinces accounted for more than one-third of the total variation in the percentage of women who went on to receive postnatal care after receiving skilled birth attendance. Despite success in extending the reach of maternal health care, Cambodia needs continuing effort to reduce maternal and neonatal mortality. Increasing continuum of care through an integrated service-delivery system involving both public and private sectors could be a solution to improving maternal and infant health.