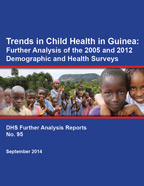 Document Type

Publication Topic(s)

Country(s)

Survey

Language

English,French

Recommended Citation

Greenwell, K. Fern and Michelle Winner. 2014. Trends in Child Health in Guinea: Further Analysis of the 2005 and 2012 Demographic and Health Surveys. DHS Further Analysis Reports No. 95. Rockville, Maryland, USA: ICF International.

Download Citation

Publication Date

September 2014

Publication ID

FA95
Abstract:
This analysis investigates a shortlist of key health-related indicators for children and identifies significant changes in them between two survey periods, Guinea Demographic and Health Survey 2005 and Guinea Demographic and Health Survey 2012. In addition to changes at the national level, it examines changes at the subnational level, namely, in Guinea's rural and urban areas, eight administrative regions, and five wealth groups. The results provide an overview of the child health situation through the 2000s and point to interventions that need to be strengthened among certain population groups to ensure better equality in health outcomes. There is no strong evidence that selected health indicators have improved for women in rural and poor populations from 2005 to 2012; only two of the six indicators revealed significant improvement among these groups. Similarly, the selected indicators for children's health show persistently poor levels in 2005 and 2012. Only the percentage of underweight children improved significantly at the national level and across subnational groups. There was significant deterioration in three of six child health indicators at the subnational level.