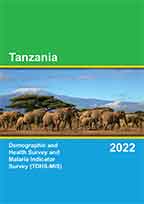 Document Type

Country(s)

Survey

Language

English

Recommended Citation

Ministry of Health (MoH) [Tanzania Mainland], Ministry of Health (MoH) [Zanzibar], National Bureau of Statistics (NBS), Office of the Chief Government Statistician (OCGS), and ICF. 2022. Tanzania Demographic and Health Survey and Malaria Indicator Survey 2022 Final Report. Dodoma, Tanzania, and Rockville, Maryland, USA: MoH, NBS, OCGS, and ICF.

Download Citation

Publication Date

October 2023

Publication ID

FR382
There is no printed copy available to order.
Abstract:
Comprehensive survey results are published in the DHS Final Reports approximately 8-12 months after the completion of fieldwork. Standard reports are approximately 200 pages in length and include, but are not limited to, topics such as: household and respondent characteristics, fertility and family planning, maternal and child health, nutrition, and HIV/AIDS.