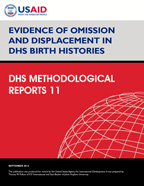 Document Type

Publication Topic(s)

Language

English

Recommended Citation

Pullum, Thomas W., and Stan Becker. 2014. Evidence of Omission and Displacement in DHS Birth Histories. DHS Methodological Reports No. 11. Rockville, Maryland, USA: ICF International.

Download Citation

Publication Date

September 2014

Publication ID

MR11
Abstract:
This report assesses the quality of the birth history data in 192 DHS surveys conducted since 1990. The birth histories are the source of the age-specific fertility rates, the total fertility rate (TFR), and the under 5 mortality rates that are widely used to describe levels, differentials, and trends in fertility and child mortality in developing countries. The assessment is based on three criteria to identify potential omission of births and/or deaths and three criteria to identify potential displacement, or misreporting, of date of birth, age at death, or both. Extreme values should be viewed as symptoms rather than a conclusive diagnosis of poor data quality. The birth histories in most DHS surveys appear to be of excellent quality, although several surveys do show symptoms of omission, displacement, or both. With the selected indicators and criteria, omission of births is usually at the level of 2 percent or less, and only rarely exceeds 5 percent. Displacement of births is also usually 2 percent or less, and only rarely exceeds 3 percent of births in the past 10 years. The omission of deaths is a higher percentage; but usually less than 5 percent, although it may exceed 10 percent in some surveys. Displacement of deaths is usually less than 5 percent, and almost never more than 10 percent. With some unevenness across regions, DHS-6 appears to be the phase of DHS that had the lowest overall levels of incomplete birthdates, flagged dates of death, and omission and displacement of births and deaths.