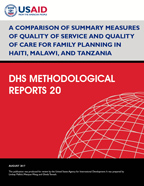 Document Type

Publication Topic(s)

Country(s)

Language

English

Recommended Citation

Mallick, Lindsay, Wenjuan Wang, and Gheda Temsah. 2017. A Comparison of Summary Measures of Quality of Service and Quality of Care for Family Planning in Haiti, Malawi, and Tanzania. DHS Methodological Report No. 20. Rockville, Maryland, USA: ICF.

Download Citation

Publication Date

August 2017

Publication ID

MR20
Abstract:
Researchers generally agree on a framework of domains and indicators of quality of care in family planning, although there is less consensus on methodological approaches for creating summary measures. This study used Service Provision Assessment (SPA) and Demographic and Health Survey (DHS) data from Haiti, Malawi, and Tanzania to compare traditionally used additive methods with a data reduction method—principal components analysis (PCA). We scored the quality of health facilities with three approaches (simple additive, weighted additive, and PCA) for two constructs: quality of services, with only facilities-level data, and quality of care, which incorporates observation and client data. We ranked facilities as high, medium, or low quality based on their scores. Our results indicated that the rankings change with the scoring methodology. There was more consistency in the rankings of facilities by the simple additive and PCA methods than the weighted additive and PCA-based rankings. This may be due to the low factor loadings and little variance explained by the first component in the PCA. We aggregated facility scores to their respective DHS clusters (Haiti, Malawi) or regions (Tanzania) and geographically linked them to women interviewed in DHS surveys to test associations between the use of family planning services and the quality environment, as measured with each index. Results of multilevel logistic regressions indicated that the scoring mechanism influences how well the quality environment predicts women's use of family planning services. The quality environment measured with the weighted additive approach significantly predicted the use of family planning services more often than the simple additive or PCA-based measures. We recommend weighted additive scoring methods for their ease of construction and interpretation, and their ability to predict associations with use of family planning services. However, results from the PCA suggest the use of subscales rather than one summary scale of quality.