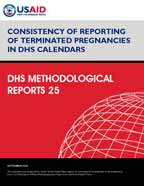 Document Type

Publication Topic(s)

Language

English

Recommended Citation

MacQuarrie, Kerry L. D., William Winfrey, Jacqueline Meijer-Irons, and Anne Morse. 2018. Consistency of Reporting of Terminated Pregnancies in DHS Calendars. DHS Methodological Reports No. 25. Rockville, Maryland, USA: ICF.

Download Citation

Publication Date

September 2018

Publication ID

MR25
Abstract:
This study examines the consistency of reporting of terminated pregnancies in DHS reproductive calendars. We examine two measures of consistency: within-survey consistency and between-survey consistency. We find that 70-80% of surveys are inconsistent by either or both of these measures. Reporting of terminated pregnancies deteriorates in earlier periods of the calendar. Africa has a higher proportion of inconsistent surveys (78%), whereas in the other regions about two-thirds of surveys are classified as inconsistent. Consistency appears to vary with type of history (pregnancy or birth), direction of the history, and the inclusion of questions that distinguish between miscarriage and induced abortion. Survey length and mode of data collection appear unrelated to either consistency or inconsistency of reporting terminated pregnancies. While previous studies have assessed DHS calendar data related to contraception, perinatal mortality, age displacement, and birth intervals, this study is believed to be the first to undertake a focused assessment of reporting of terminated pregnancies. Our findings suggest the need for more experimentation with modifications to the calendar and modes of data collection. Such modifications should be randomly assigned within or across surveys and accompanied by rigorous assessment.