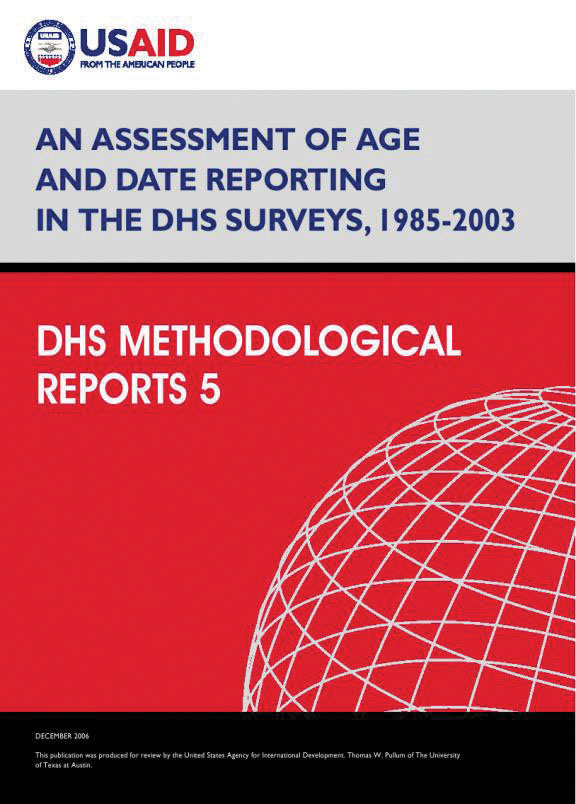 Document Type

Language

English

Recommended Citation

Pullum, Thomas W. 2006. An Assessment of Age and Date Reporting in the DHS Surveys, 1985-2003. DHS Methodological Reports No. 5. Calverton, Maryland, USA: Macro International

Download Citation

Publication Date

December 2006

Publication ID

MR5
Abstract:
Complete and accurate reports of dates and ages are critically important for DHS surveys. Eligibility for inclusion in the survey of women age 15-49, as well as most surveys of men and special surveys, depends on the age given in the household survey. Eligibility of children for questions on health depends on the birth dates given in the birth histories. Both the numerators and the denominators of age-specific fertility rates, infant mortality rates, and other rates depend on reported age. In addition, the quality of the reports of ages and dates reflects on the quality of other information in the surveys. This assessment is based on virtually all of the surveys of households and surveys of women conducted between 1985-2003 that were available in standard recode format: 102 household surveys and 128 surveys of women, including complete child files from the surveys of women. Incompleteness of reporting, heaping of ages or birth years (stating final digit 0 or 5, or age at death 12 months, for example), and displacement are examined. Results are presented mainly in the form of histograms showing the distribution of indexes of these kinds of problems and lists of surveys that exceed specific thresholds. The effect of displacement on estimates of fertility and infant mortality is explored, as well as evidence that education of the household respondent, household head, and the mother tend to affect misreporting. Trends over time and differences between major regions are presented.