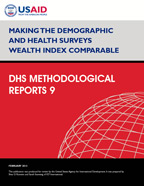 Document Type

Publication Topic(s)

Language

English

Recommended Citation

Rutstein, Shea O., and Sarah Staveteig. 2014. Making the Demographic and Health Surveys Wealth Index Comparable. DHS Methodological Reports No. 9. Rockville, Maryland, USA: ICF International.

Download Citation

Publication Date

February 2014

Publication ID

MR9
Abstract:
The development of the DHS Wealth Index more than a decade ago provided the opportunity to analyze economic status inequalities beyond those of educational attainment, occupation, residence, and ethnic group. However, the DHS wealth index is survey-specific and as such refers to a particular point in time, limiting comparative and trend analyses involving economic status. This report describes the methodology of the Comparative Wealth Index (CWI), a way to make the standard DHS Wealth Index comparable across surveys and time which allows direct comparison of economic status levels. In the report CWI has been computed for 172 DHS surveys conducted between 1990 and 2012. Calculations of means and standard deviations of the CWI for each survey show that the CWI comports well with per capita income measures for countries and for regions. The report illustrates use of the CWI in analyses of indicators of child mortality, fertility, maternal health care, and child nutritional status and highlights the importance of considering absolute levels of wealth when comparing national survey data. The Comparative Wealth Index does not replace the original DHS Wealth Index but adds an additional dimension for comparative and trend analysis, one that can be used to sort out the effects of health programs from the effects of changes in economic status of the population.