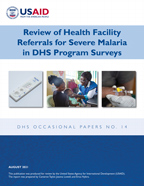 Document Type

Publication Topic(s)

Language

English

Recommended Citation

Taylor, Cameron, Joanna Lowell, and Erica Nybro. 2021. Review of Health Facility Referrals for Severe Malaria in DHS Program Surveys. DHS Occasional Papers No. 14. Rockville, Maryland, USA: ICF.

Download Citation

Publication Date

August 2021

Publication ID

OP14
There is no printed copy available to order.
Abstract:
This paper examines the severe malaria referral process for 188,686 children tested for malaria and anemia in 37 surveys across 19 countries in sub-Saharan Africa collected between 2011 and 2018. We first reviewed the proportion and patterns of children who are referred to a health facility as part of the standard severe malaria referral process, and then considered how these referral patterns would differ under various referral protocols. Across all 37 surveys, 26% of children were positive for malaria by rapid diagnostic test (RDT). Among the children who tested positive, 24% were referred for possible severe malaria based on the standard DHS referral protocol (any of the standard six severe malaria symptoms or hemoglobin <8g/dL). In examining severe malaria referral by background characteristics, we see expected patterns by age, household wealth, residence, and fieldwork year. We had hoped that this analysis would guide adjustments to The DHS Program's referral protocol in order to optimize the number of children who receive artemisinin-based combination therapy (ACT) and referrals while avoiding overburdening the health care system with unnecessary referrals. The lack of data about the percentage of children who actually receive care following their referral, and their ultimate diagnosis, limits our ability to recommend major changes to the protocol. We recommend some smaller changes to surveys that include malaria testing, such as standardizing training on the severe malaria protocol, improving the precision of the "extreme weakness" symptom, and collecting and documenting information about fieldworkers' medical credentials. We also propose reducing the hemoglobin cut-off to limit unnecessary referrals and increase the number of children who can receive ACT in the field; a specific decision about the new hemoglobin cut-off will be taken in the coming months.