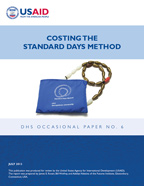 Document Type

Publication Topic(s)

Country(s)

Language

English

Recommended Citation

Rosen, James E., Bill Winfrey, and Adebiyi Adesina. 2013. Costing the Standard Days Method. DHS Occasional Papers No. 6. Calverton, Maryland, USA: ICF International.

Download Citation

Publication Date

July 2013

Publication ID

OP6
Abstract:
The Standard Days Method (SDM) has been part of the family planning modern method mix for over a decade, and countries are gradually incorporating SDM into national family planning norms, policies, and programs. This study aimed to systematically examine SDM costs in three of the five focus countries where the Institute for Reproductive Health (IRH) and its partners have worked to integrate SDM into family planning programs. The total cost of the SDM integration effort was $916,000 in Guatemala, $671,000 in India/Jharkhand, and $2,718,000 in Rwanda. A unit cost analysis found that, in Guatemala and Rwanda, SDM had substantially lower routine service delivery costs compared with the oral pills, injectables, and condoms. In India, SDM is more costly than orals, but less costly than condoms. SDM becomes even less costly by comparison for those users that continue using beyond the first year. It also compares quite favorably with similar methods in terms of cost per birth averted over a two-year time frame. As for any new method, large-scale integration of SDM into a family planning program takes a substantial amount of time and money, and, in deciding whether to undertake such introduction and scale-up activities, decision makers need to weigh those costs against the individual and societal benefits of expanding method choice. Once SDM is established within family planning programs, it appears to have a similar, or even lower, routine service delivery cost compared with other short-term methods of contraception.