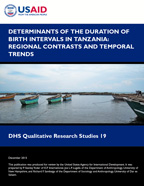 Document Type

Publication Topic(s)

Country(s)

Language

English

Recommended Citation

Yoder, P. Stanley, Joe L.P. Lugalla, and Richard F. Sambaiga. 2013. Determinants of the Duration of Birth Intervals in Tanzania: Regional Contrasts and Temporal Trends. DHS Qualitative Research Studies No. 19. Calverton, Maryland, USA: ICF International.

Download Citation

Publication Date

September 2013

Publication ID

QRS19
Abstract:
The duration of birth intervals has received attention in demography and public health research because of its implication for fertility and for maternal and child health. This study examines the duration of birth intervals in two regions of Tanzania and seeks to explain the origin of the differences between the regions by considering survey data as well as interviews with individual women and groups of men. Our starting point is the striking regional trends in the length of birth intervals as observed in the five Tanzanian surveys of the Demographic and Health Surveys Program that have been conducted in the country from 1991 to 2010. In particular this study focuses mainly on the populations of Western and Southern Zones, where the DHS also showed contrasts in the contraceptive prevalence rate (CPR) for modern methods over time. In the Western Zone, the CPR was 2% in 1991, and then 7% for the next three surveys, eventually rising to 13% in the 2010 survey. In the Southern Zone, the CPR was 4% in 1991 and rose substantially in each survey until it reached 36% in 2010. These two zones present stark contrasts in both the duration of birth intervals and in the use of contraception.