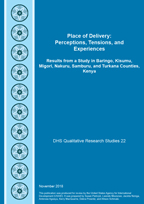 Document Type

Publication Topic(s)

Country(s)

Survey

Language

English

Recommended Citation

Pietrzyk, Susan, Lwendo Moonzwe, Jacinta Nzinga, Ambrose Agweyu, Kerry L. D. MacQuarrie, Debra Prosnitz, and Allison Schmale. 2018. Place of Delivery: Perceptions, Tensions, and Experiences: Results from a Study in Baringo, Kisumu, Migori, Nakuru, Samburu, and Turkana Counties, Kenya. DHS Qualitative Research Studies No. 22. Rockville, Maryland, USA: ICF.

Download Citation

Publication Date

November 2018

Publication ID

QRS22
Abstract:
The 2014 Kenya Demographic and Health Survey (2014 KDHS) was the first national survey in Kenya to produce county-level indicator estimates. Data from this survey indicate that, nationally, 61% of live births were delivered in a health facility, but with considerable variation across Kenya's 47 counties. The present study—one of three studies funded by the U.S. Agency for International Development Mission in Kenya (USAID/Kenya) to complement the 2014 KDHS—analyzed qualitative data collected from participants in Baringo, Kisumu, Migori, Nakuru, Samburu, and Turkana Counties. The study included 24 focus group discussions, 24 key informant interviews, and 60 in-depth interviews to examine individual and contextual factors that influence women's actions around place of delivery. The findings indicate that women do not always choose their place of delivery. Further, simply grouping deliveries and women into two categories—health facility and home—risks missing the details and nuances concerning the many factors that influence place of delivery. Data from the study suggest that women's actions and contextual factors pertaining to place of delivery combine with a wide range of perceptions about health services and health facilities, tensions related to cultural beliefs and practices, and experiences and feelings during pregnancy to affect where women deliver. The study reaches a number of conclusions, for each of the research questions, and makes recommendations for improving the quality of and accessibility to health care and also finding ways for women and their partners to make more use of health facilities during pregnancy and delivery.