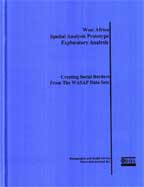 Document Type

Publication Topic(s)

Country(s)

Benin, Burkina Faso, Cameroon, CAR, Cote d'Ivoire, Ghana, Liberia, Mali, Niger, Nigeria, Senegal, Togo

Language

English

Recommended Citation

Hill, Nicholas D. 1998. West Africa Spatial Analysis Prototype Exploratory Analysis: Creating Social Borders from the WASAP Data Sets. DHS Spatial Analysis Reports No. 1. Calverton, Maryland, USA: Macro International

Download Citation

Publication Date

September 1998

Publication ID

SAR1
There is no printed copy available to order.
Abstract:
The aim of this paper is to demonstrate and evaluated the construction and application of a set social boarders. The social borders will be based upon ethnicity; they will designate areas of common ethnicity, areas that we will call ethnic enclaves. The ethnicity data that they will be based on comes from the West Africa Spatial Analysis Prototype (WASAP), a project concerned with the regional interpretation of West African data. After the ethnic enclaves' borders have been created, the distributions of a set of demographic and health indicators will be displayed across them and national political borders. This comparison is intended to demonstrate that the association between a set of indicators and social borders (in this case ethnic borders) is different than the association between these indicators and national boarders.The aim of this comparison is therefore to demonstrate the general utility of social borders in analyzing regional data,, not to draw specific conclusions about the association between ethnicity and the set of indicators.