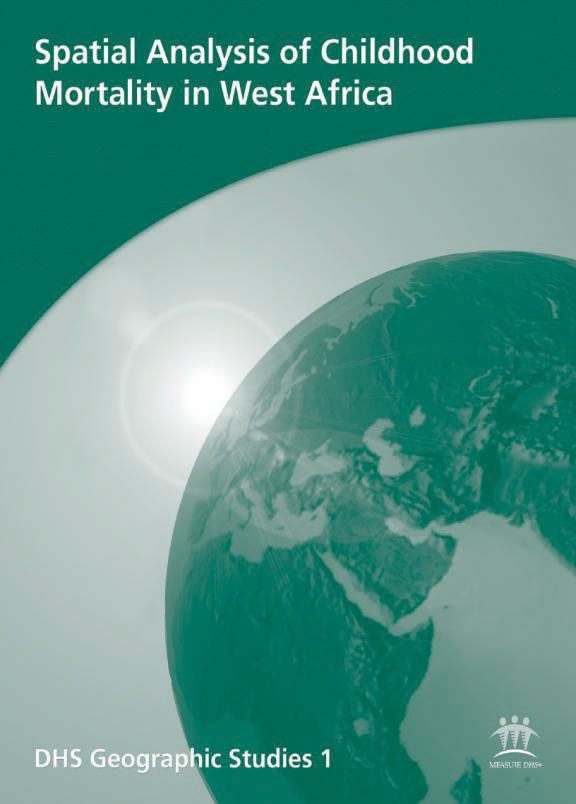 Document Type

Publication Topic(s)

Country(s)

Benin, Burkina Faso, Cameroon, Cote d'Ivoire, Ghana, Mali, Niger, Senegal, Togo

Language

English

Recommended Citation

Balk, Deborah, Tom Pullum, Adam Storeygard, Fern Greenwell, and Melissa Neuman. 2003. Spatial Analysis of Childhood Mortality in West Africa. DHS Spatial Analysis Reports No. 5. Calverton, Maryland, USA: ORC Macro.

Download Citation

Publication Date

December 2003

Publication ID

SAR5
Abstract:
West African countries experience mortality two to three times higher than countries in northern Africa and much of southern Africa. The countries also show differential trends in levels and age patterns of childhood mortality. While it appears that some countries have experienced significant declines in recent mortality, others appear to have experienced a reversal. Because of the complexities associated with analyzing trends from cross-sectional data, this report will focus on the major determinants of mortality in the ten years preceding the period 1997–2001. Its contribution is a consideration of a broad class of spatial covariates. Several individual and household-level factors have been identified as key determinants of infant and child survival, such as maternal education and the pace of childbearing. Many studies indicate that environmental or geographic factors also play an important role, including population density, climate, disease environment, and urban residence. However, few studies have been able to incorporate environmental factors that are explicitly spatial. Spatial variables include distances from households or communities, and environmental characteristics that have their own geographic boundaries. This study makes further inroads by incorporating several new or previously hard-to-integrate sources of spatial data. The primary objective of this report is to explore and draw attention to the effects of a largely unexplored body of environmental information on infant and child mortality. The underlying motivation is to account for some portion of the variance that has not been explained by the traditional socioeconomic and biodemographic determinants of childhood mortality.