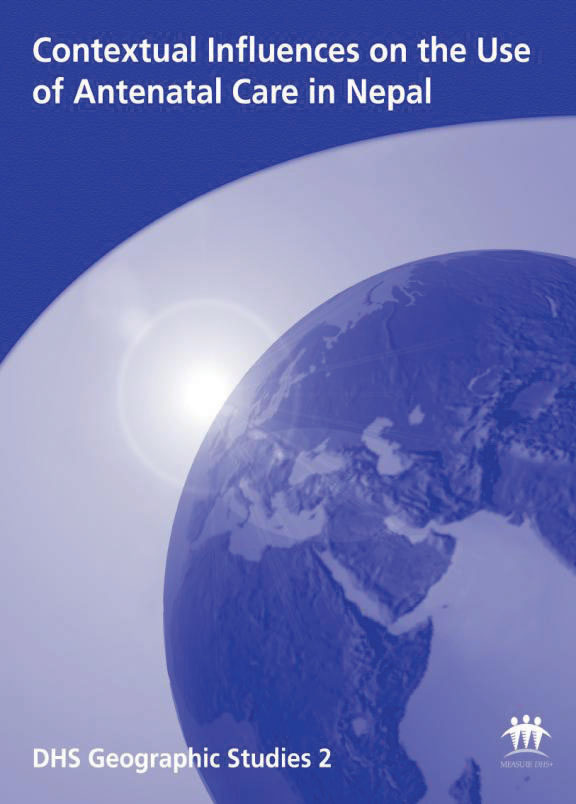 Document Type

Publication Topic(s)

Country(s)

Survey

Language

English

Recommended Citation

Matthews, Stephen A., and Bina Gubhaju. 2004. Contextual Influences on the Use of Antenatal Care in Nepal. DHS Spatial Analysis Reports No. 6. Calverton, Maryland, USA: ORC Macro.

Download Citation

Publication Date

May 2004

Publication ID

SAR6
Abstract:
This report explores the degree to which contextual factors are determinants of individual behavior, specifically regarding the use of antenatal services. Variation in gender development and empowerment across districts in Nepal suggest that research on women's antenatal care behaviors may be enhanced by incorporating contextual data at the district level with individual and household level data from the 2001 Nepal Demographic and Health Survey (NDHS). This study of antenatal care uses DHS cluster geocodes to link with contextual data at the district level. The analysis focuses on two outcome measures associated with antenatal care: (a) whether a woman received any antenatal care, and (b) for those women who made at least one antenatal care visit, whether she made four or more visits during the pregnancy. A focus on women's empowerment and place can direct attention to the study of social contexts and processes, particularly those relating to maternal health behaviors. Many studies of the use of maternal health services have focused on ior micro characteristics. In contrast, this study explores the use of models, specifically hierarchical generalized linear models (HGLM), to investigate whether contextual or macro characteristics also matter. The macro-micro framework postulates that social forces at the macro level determine micro-level opportunities and constraints and thereby influence individual decisions. Policies and programs conceived without consideration for local context and place will have limited impact, unless they are informed by data that appreciates the connection between women's health and status across different spatial scales and analytical levels.