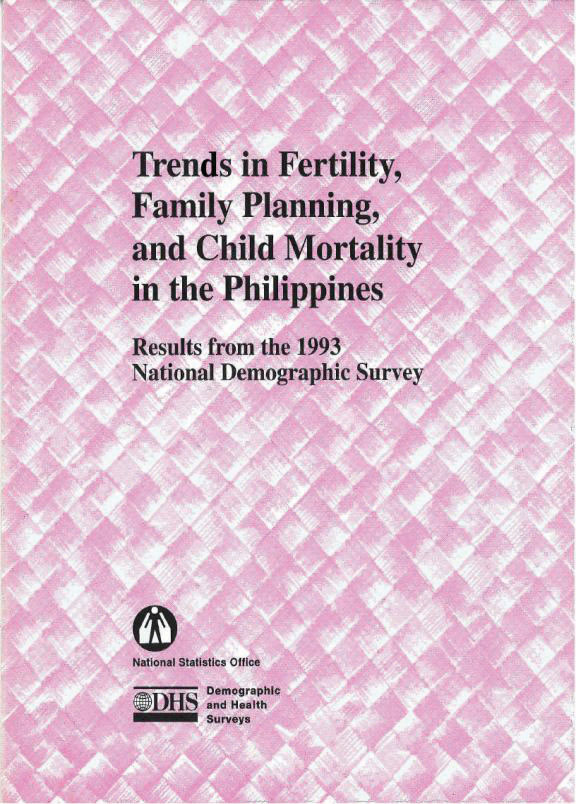 Document Type

Publication Topic(s)

Country(s)

Language

English

Recommended Citation

National Statistics Office/Philippines and Macro International. 1995. Trends in Fertility, Family Planning, and Child Mortality in the Philippines: Results from the 1993 National Demographic Survey. Calverton, Maryland, USA: Macro International.

Download Citation

Publication Date

February 1995

Publication ID

TR02
There is no printed copy available to order.
Abstract:
This report highlights important trends in key population health indicators in the Philippines over a period of two decades, The Republic of the Philippines has a long history of demographic data collection, beginning in 1960 with the decennial and housing census program. Intercensal demographic surveys have been conducted every five years since 1968, and there have been several interim surveys. This report draws information from the Censuses of Population of Housing of 1970, 1980, and 1990, and from the intercensal demographic surveys, particularly, the 1978 Republic of the Philippines Fertility Survey (RPFS), the 196 Contraceptive Prevalence Survey (CPS), and the 1993 National Demographic Survey (NDS). The availability of data from these survey provides an excellent opportunity for investigating trends in fertility, family planning knowledge, and use, and infant and child mortality. However, since different organizations conducted these surveys, and different procedures were used in reporting the results, direct comparison of the published results is difficult. Therefore, this trend analysis is necessarily limited in scope. Differences among the surveys are found primarily in the survey questionnaires and the methodology used to calculate estimates. Except for the 1993 NDS, which included all women 15-49, survey respondents were ever-married women of childbearing age. All of the surveys included pregnancy histories for women 15-49, allowing the direct estimation of fertility and childhood mortality rates. All of the surveys included questions on knowledge and use of family planning.