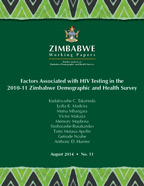 Document Type

Publication Topic(s)

Country(s)

Survey

Language

English

Recommended Citation

Takarinda, Kudakwashe C., Lydia K. Madyira, Mutsa Mhangara, Victor Makaza, Memory Maphosa, Simbarashe Rusakaniko, Tsitsi Mutasa-Apollo, Gertrude Ncube, and Anthony D. Harries. 2014. Factors Associated with HIV Testing in the 2010-11 Zimbabwe Demographic and Health Survey. DHS Working Papers No. 110 (Zimbabwe Working Papers No. 11). Rockville, Maryland, USA: ICF International.

Download Citation

Publication Date

August 2014

Publication ID

WP110
Abstract:
Zimbabwe has a high human immunodeficiency virus (HIV) burden. It is therefore important to scale up HIV testing and counselling (HTC) as a gateway to HIV prevention, treatment and care. The objective of this study is to determine factors associated with HIV testing uptake among adult men and women in Zimbabwe. The study used data from 7,313 women and 6,584 men who completed interviewer-administered questionnaires and who provided blood specimens for HIV testing during the 2010-11 Zimbabwe Demographic and Health Survey (ZDHS). Associations between socio-demographic and sexual risk behaviours were examined using the Chi-square test for association and multivariate logistic regression. The study found that more women than men were ever tested for HIV (61% versus 39%), which was similar to findings for testing in the 12 months before the survey (40% versus 26%). In the multivariate analysis, women who visited antenatal care (ANC) had significantly higher testing uptake, and men whose partners attended ANC in the past two years had a significantly higher testing uptake. For men, testing uptake increased with increasing age from age 20, and was particularly high for men age 45-49, while, for women testing was highest at age 20-29. Other significant factors for HIV testing among both women and men were educational attainment, high wealth status, currently/formerly being in union and being HIV-infected. Despite higher testing levels among those found to be HIV-infected, 26% of women and 45% of men were never tested for HIV. ANC is an important gateway for HIV testing among pregnant women, and this model can be extended to their partners. Strategies aimed at generally increasing HIV testing uptake need to be adopted, particularly for men and for lower-income and less educated populations. The high proportion of undiagnosed individuals highlights the need for continued scale-up of HIV testing in Zimbabwe.