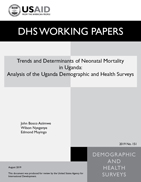 Document Type

Country(s)

Language

English

Recommended Citation

Asiimwe, John Bosco, Wilson Nyegenye, and Edmond Muyingo. 2019. Trends and Determinants of Neonatal Mortality in Uganda: Further Analysis of the Demographic and Health Surveys. DHS Working Paper No. 151. Rockville, Maryland, USA: ICF.

Download Citation

Publication Date

August 2019

Publication ID

WP151
There is no printed copy available to order.
Abstract:
The study examined demographic and socioeconomic factors associated with neonatal deaths in Uganda. Uganda's neonatal mortality has stagnated at 27 deaths per 1,000 live births over the past decade, risks missing the UN Sustainable Development Goal for reducing neonatal deaths. Studying consistent factors over time that are associated with neonatal mortality could inform policy to reduce it. We used data from the Uganda Demographic and Health Surveys conducted in 2001, 2006, 2011, and 2016. Due to the rare nature of the outcome variable (neonatal deaths), we used a complementary log-log model and controlled for complex survey design in analyses. Our study found that over the past decade children who were not put on breast milk immediately after birth and children of mothers with multiple risk factors for childbearing (too young, too old, too soon, too many) were associated with higher odds of neonatal deaths. We conclude that consistent significant factors associated with increased neonatal mortality include delayed breastfeeding after birth and multiple maternal risk factors. There is a need to sensitize mothers about the importance of breastfeeding newborns immediately after birth. Interventions to reduce the number of teenage pregnancies and promotion of contraceptive use to help avoid higher-risk childbearing are critical to reducing the prevalence of neonatal mortality in Uganda.