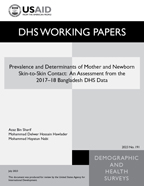 Document Type

Publication Topic(s)

Country(s)

Language

English

Recommended Citation

Sharif, Azaz, Mohammad Hawlader, and Mohammad Nabi. 2023. Prevalence and Determinants of Mother and Newborn Skin-to-Skin Contact: An Assessment from the 2017–18 BDHS Data. DHS Working Papers No. 191. Rockville, Maryland, USA: ICF.

Download Citation

Publication Date

August 2023

Publication ID

WP191
There is no printed copy available to order.
Abstract:
Evidence shows that skin-to-skin contact (SSC) enhances children's well-being. More information is needed on the prevalence and determinants of SSC in Bangladesh. This study aimed to estimate the prevalence and associated factors of mothers and their newborns' skin-to-skin contact in Bangladesh. A total of 5,304 (unweighted) women who gave birth in the three years before the survey were included in the final analysis. Multivariable logistic regression was used to identify the determinants of SSC practice. The prevalence of SSC practice in Bangladesh was 15.6% (95% CI [14.3, 17.0]). The adjusted regression model showed that the SSC practice was significantly associated with the geographic region, place of delivery, mode of delivery, and number of antenatal care visits. The SSC practice was 50% lower (aOR = 0.5, 95% CI [0.3, 0.8]) in the Rajshahi Division compared to the Dhaka Division. Women who had an institutional delivery had 2 times higher odds (aOR = 2.0, 95% CI [1.6, 2.5]) of SSC practice than women who had experienced a non-institutional delivery. Compared to women who delivered by cesarean section, the odds of SSC practice were 2.1 times higher (aOR = 2.1, 95% CI [1.6, 2.6]) for women who had a normal delivery. Women who completed at least four antenatal visits had 20% higher odds (aOR = 1.2, 95% CI [1.0, 1.4]) of SSC practice than women who completed fewer than four antenatal visits. Informal instructional and awareness programs are necessary in Bangladesh to promote the importance and extent of SSC practice.